We arrived in Cartagena mid-afternoon. From the moment we got there we realized we were back in the big city. Cartagena is the largest city we've been in since Bogota. We got off our bus and took a 40-minute taxi ride to our Airbnb. Three nights in Cartagena should be enough time to see some sites and to enjoy some relaxation time.
Where We Stayed
Since we were in a large city and going to be there for three days, we thought it might be nice to have a kitchen and a swimming pool for the kids to relax. Through Charo's research, we found a place on Airbnb. While it was a cab ride to the historic district, it had plenty a family kids needed around it.
Excepcional Apto 1401
What a great find Excepcional Apto 1401 is. It is right across the street from the Hilton Hotel and just meters away from a beach. We had access to 3 different supermarkets, and there were several different restaurants within walking distance as well.
As soon as we entered, the kids went right for the TV. That happens a lot after bus rides.
As we walked through the whole apartment, we found enough room for a family of 9. It boasts one room with a queen bed, one room with a double bed with a trundle, and the living room has one sofa bed, and one extra mattress under the queen bed.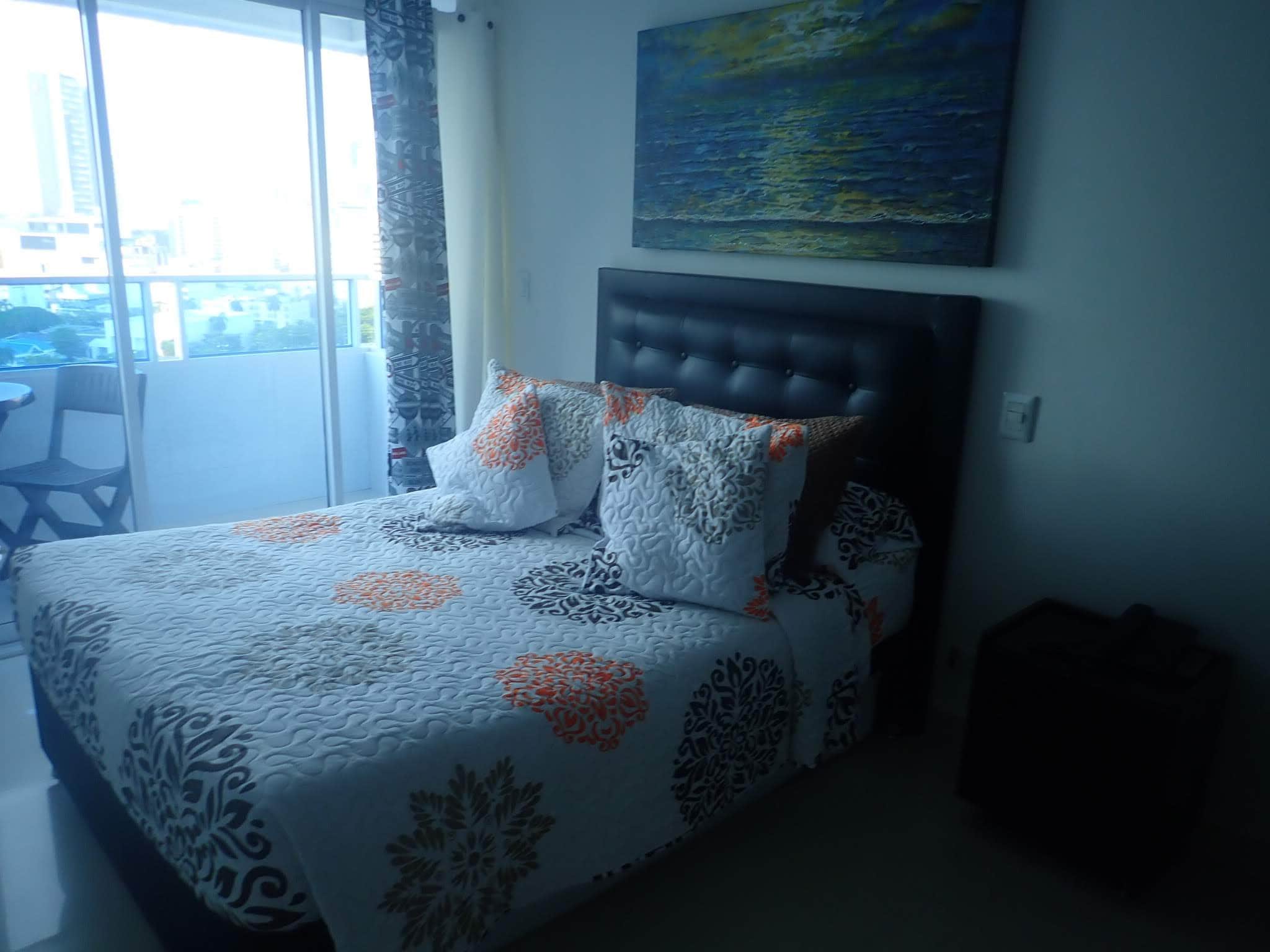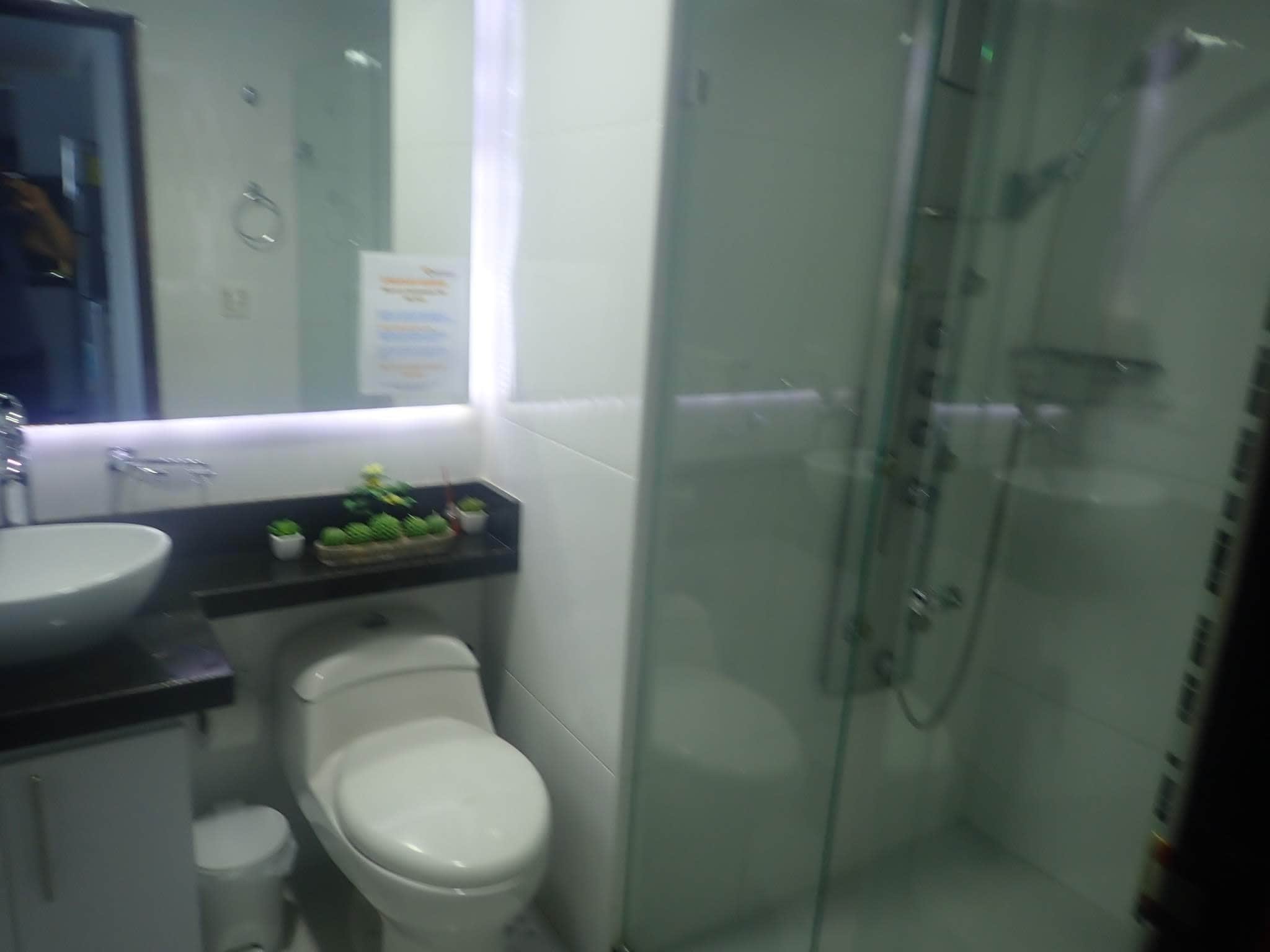 It was nice to have some room for us to spread out a bit and have a separate area for the kids to sleep in. I can't tell you how much different it feels to hang your clothes up, instead of living out of a backpack.
When you're travelling with kids, it is nice to find a place with a swimming pool. Charo took the kids to the pool for an afternoon to beat the heat, and it gave me some time to work on the blog.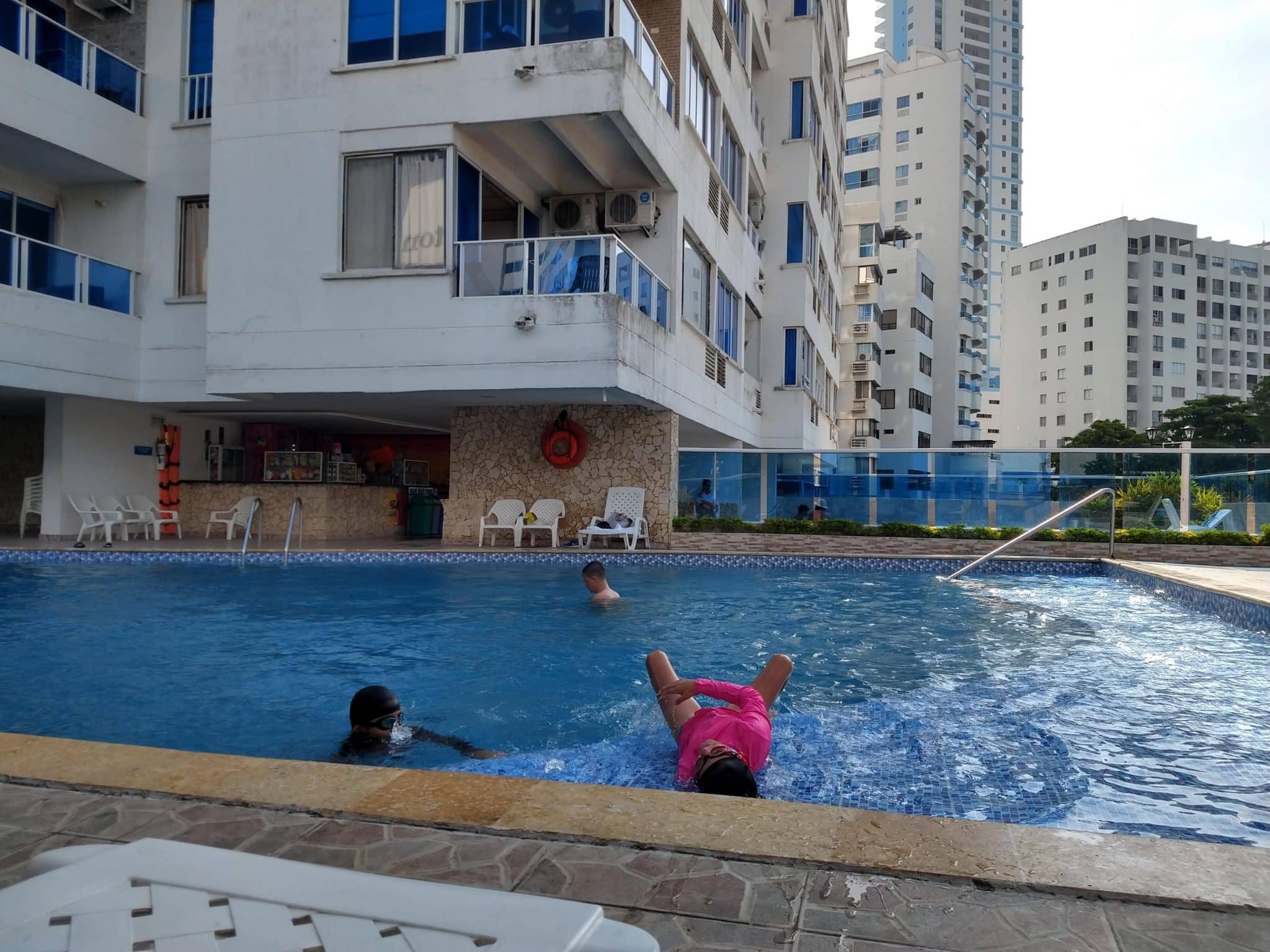 We can recommend staying at Excepcional Apto 1401. Even though it is a cab ride away from the historic city center, access to the swimming pool, restaurants, and beach more than made up for it.
Our Activities
Castillo San Felip Fortress
First built in the 17th Century San Felipe de Barajas fortress stands tall upon a hilltop designed to repel pirates and other invaders like the English and French.
We decided to get there first thing in the morning. We wanted to beat the heat that was to come.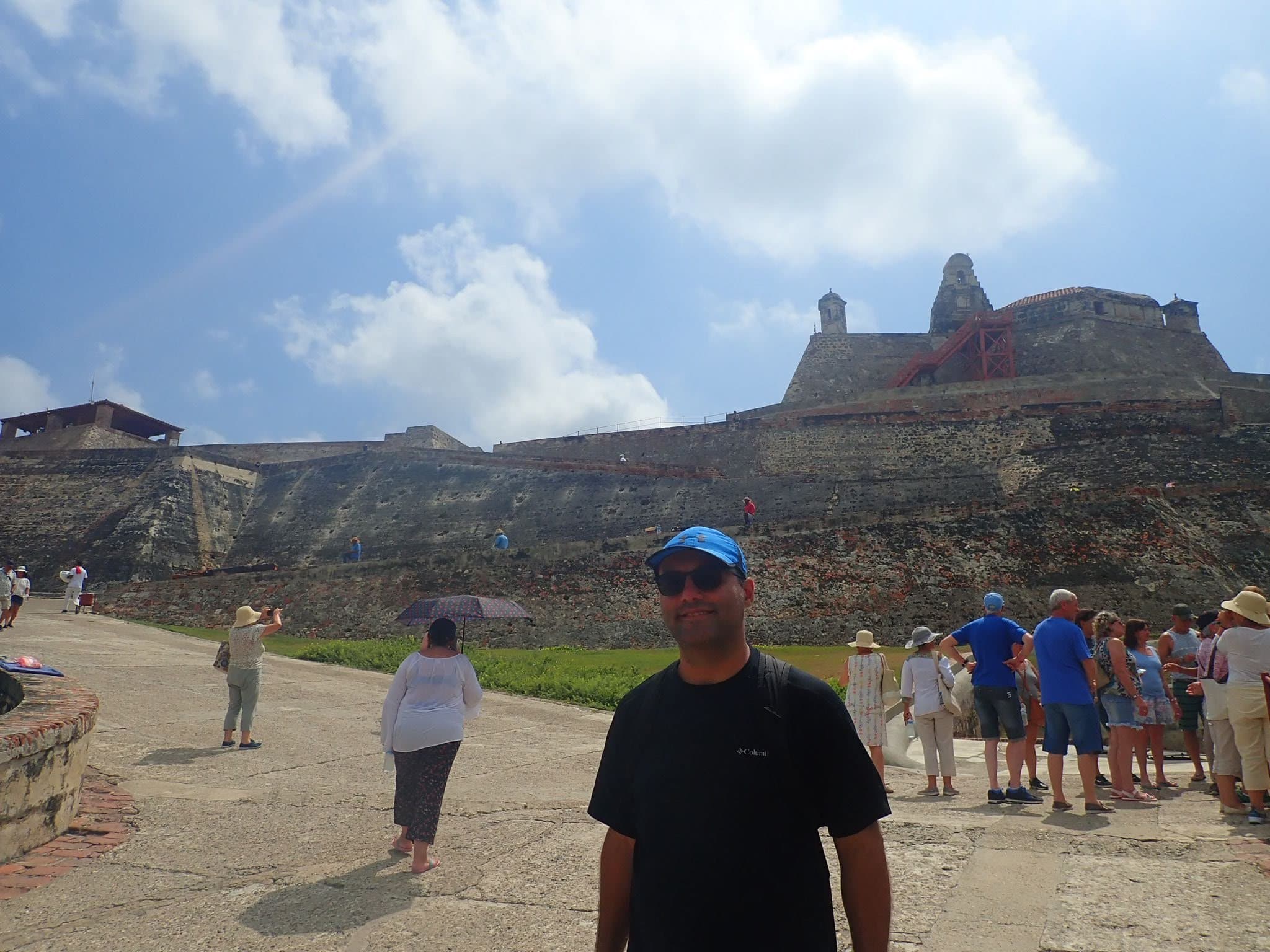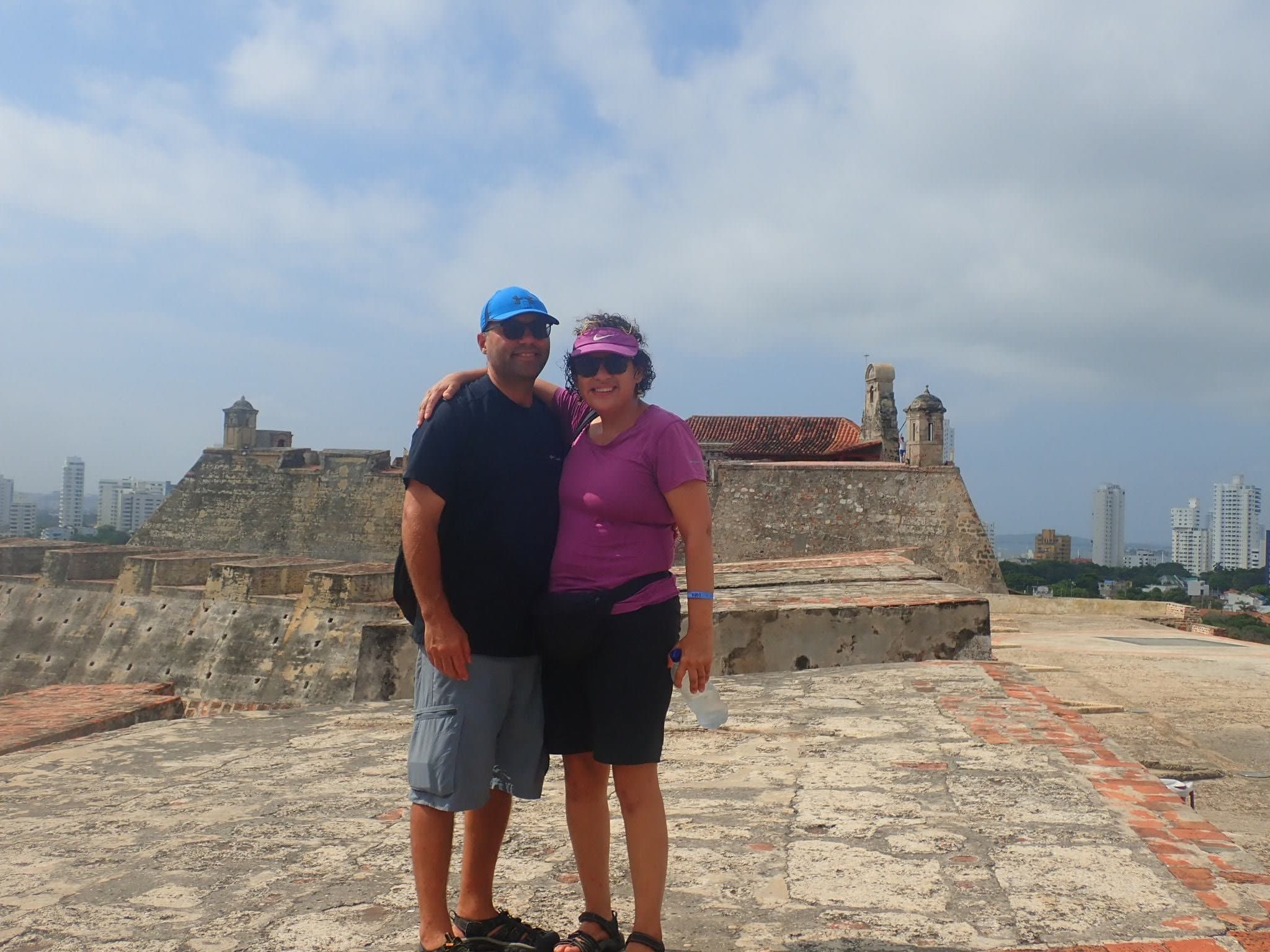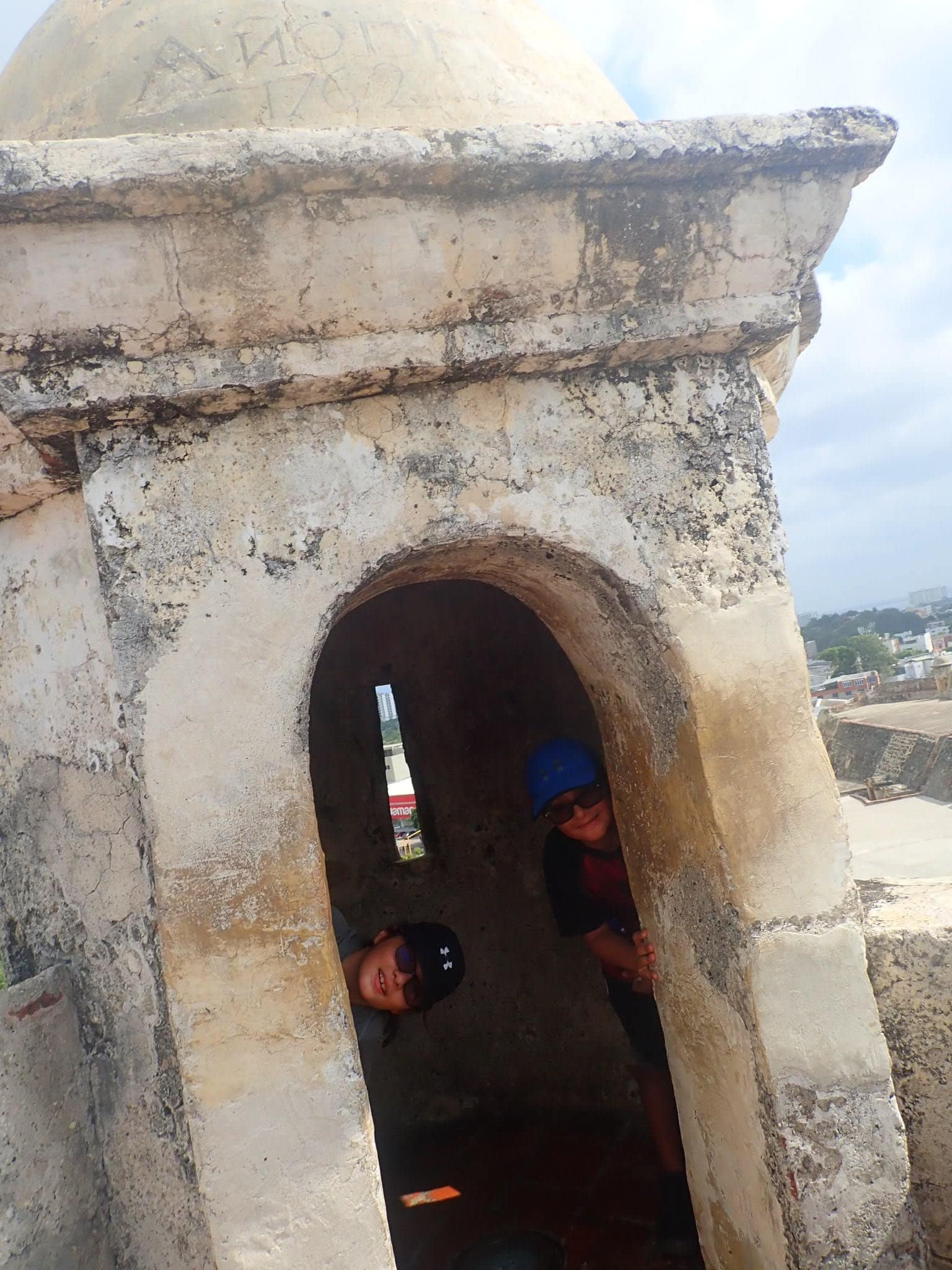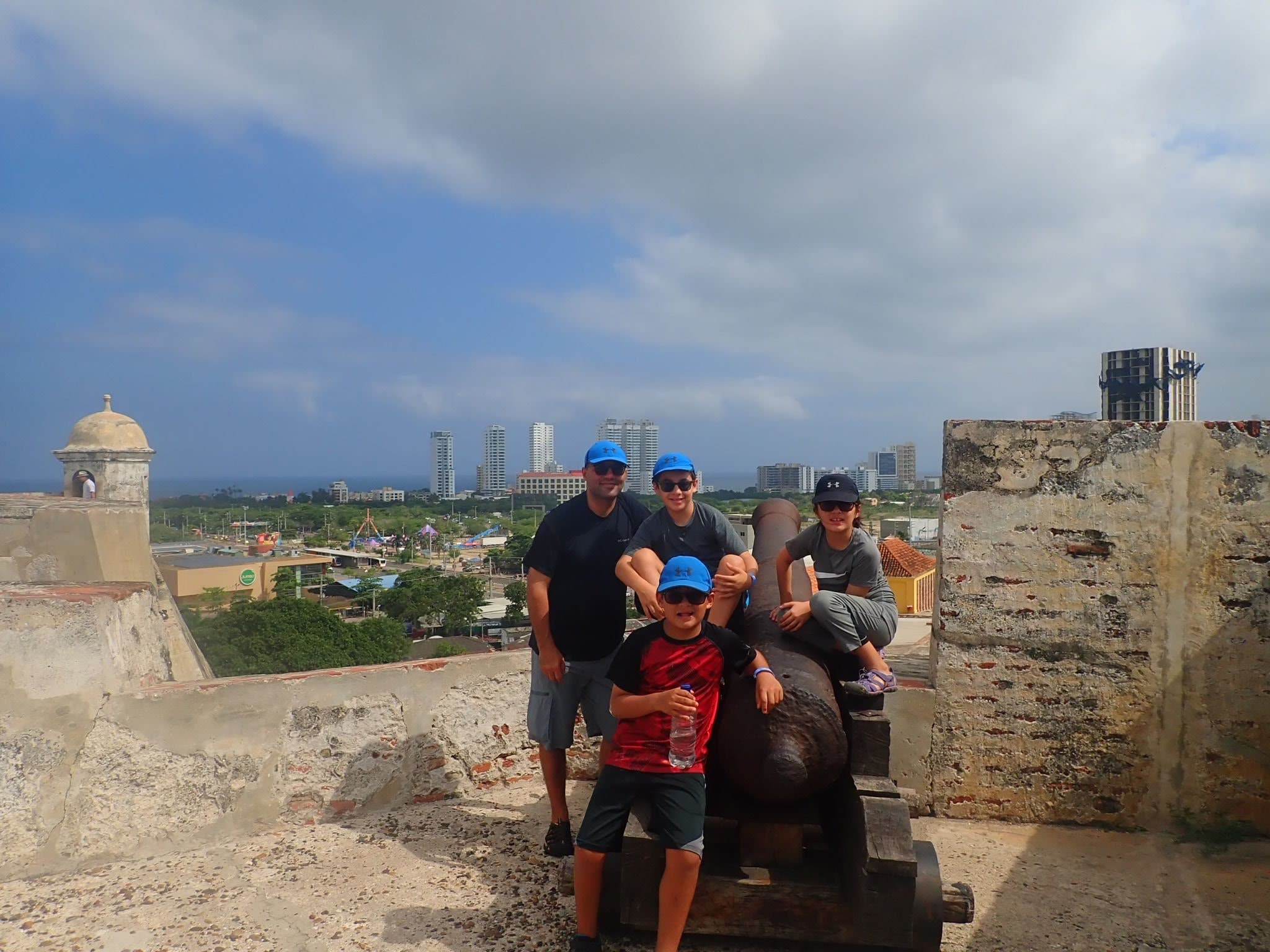 The fortress was quite impressive. There were QR codes at specific locations of the fort, and I downloaded the associated app. Unfortunately, I couldn't get it to work. It would have been nice to read a bit of the history as we went along.
Castillo San Felip fortress walk was not that difficult, but I do suggest going before the heat of midday. It is in full sun with few places to enjoy the shade. We all enjoyed walking through the fortress, the kids especially enjoyed their walk through the tunnels. We'd recommend going back to San Felipe de Barajas fortress.
The Walled City
Cartagena was a critical Port city in the late 16th century and beyond. Much of the Spanish wealth flowed through Cartagena before making its way back to Spain. To protect it, before San Felipe de Barajas fortress was built, the walls were erected around Cartagena.
On our way to the walled city, we spotted some fantastic street murals.
On our first day, we entered through the central plaza.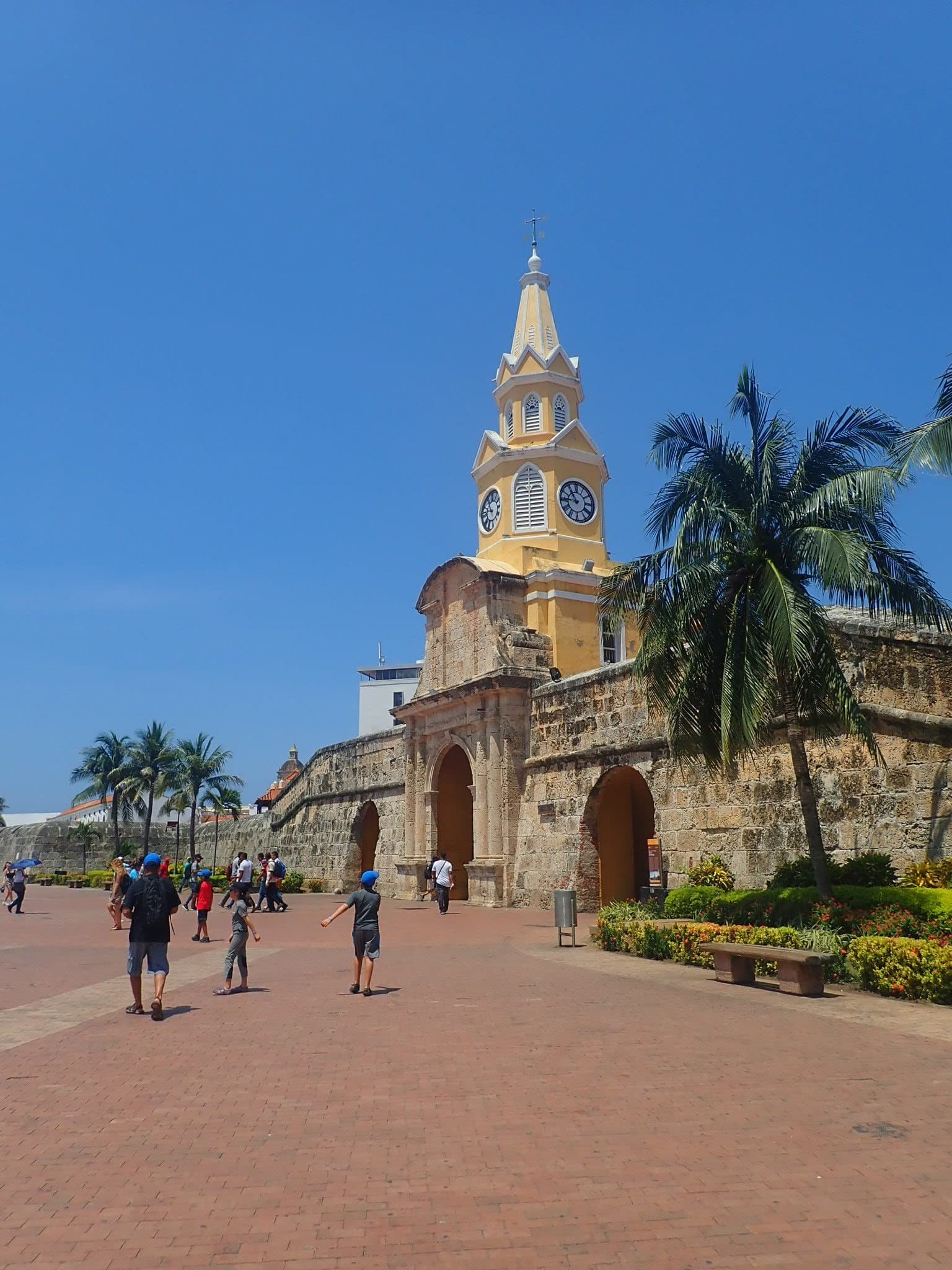 As we entered, we saw beautiful colonial architecture. Of course, the kids didn't notice. What they did notice was Portal de Los Dulces, or what they must have thought was candy heaven. All those vendors you see in the above picture, and further beyond all sell candy.
The old city was full of tight one way streets. During many parts of the day, vehicular traffic is not allowed, and therefore a great walking city.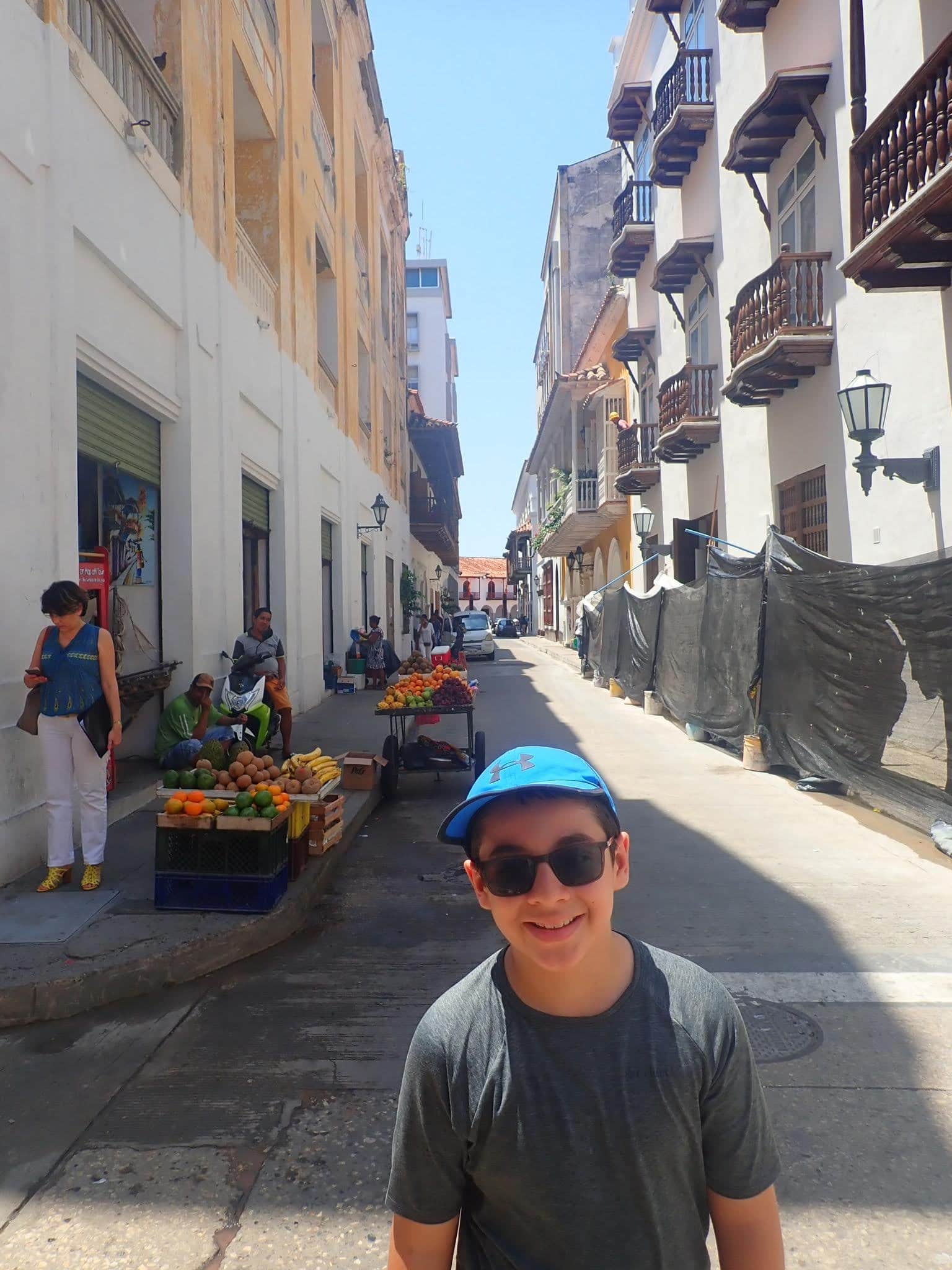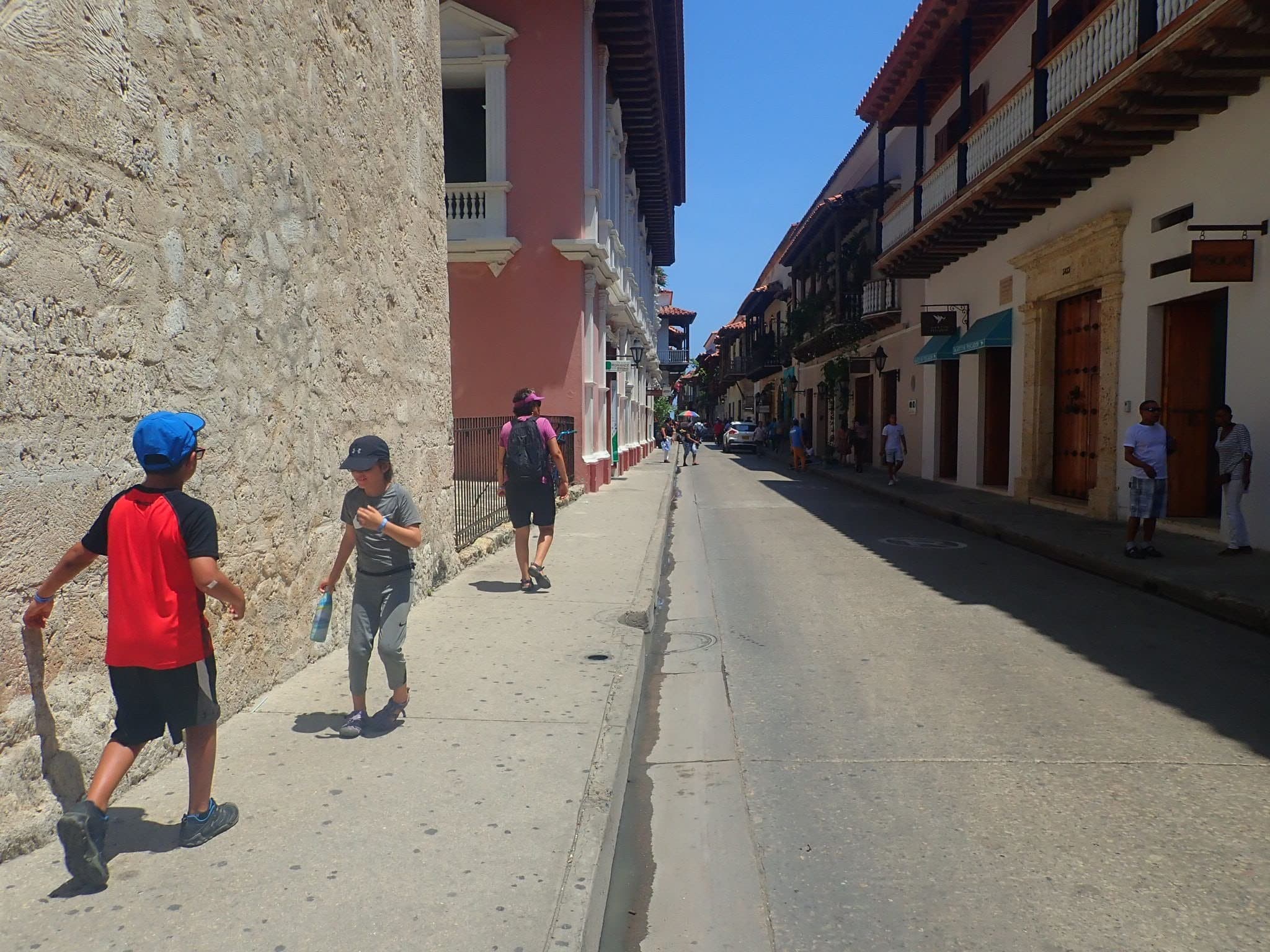 While we were walking came to one of the many churches, and again we found Botero statues.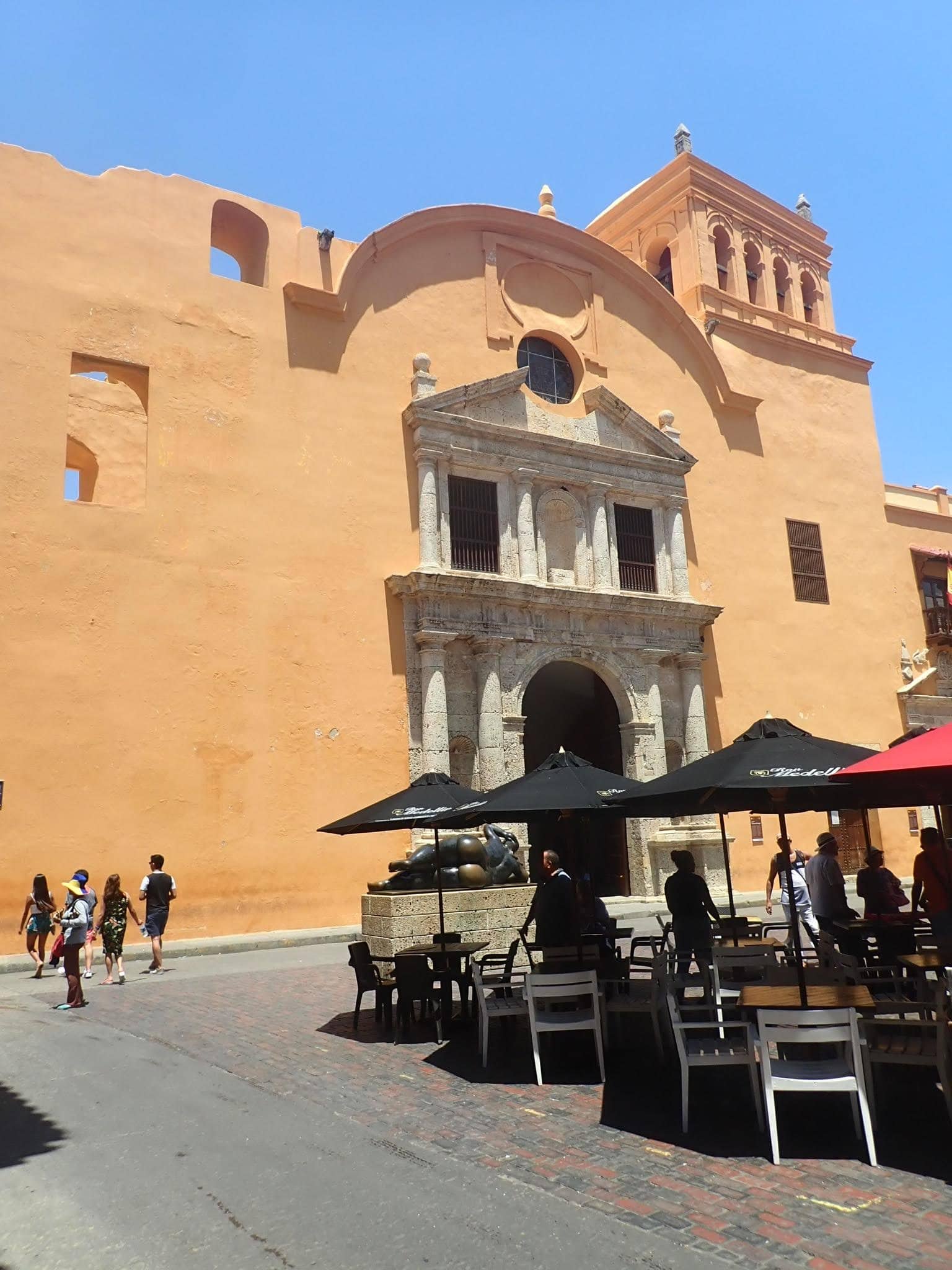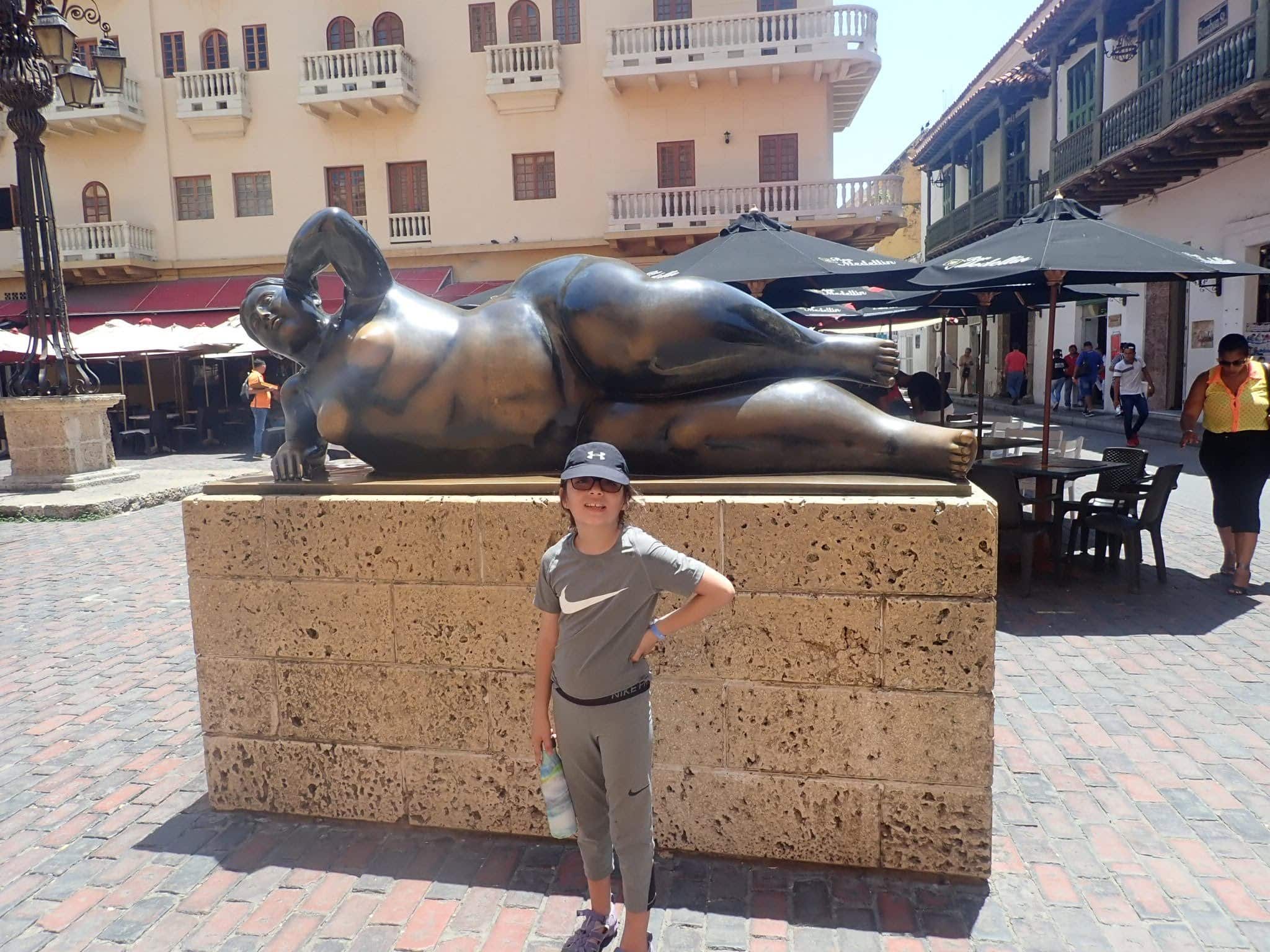 This is where our tour of the city came to an end for the morning. It was getting way too hot, so we decided to go back to the hotel for a dip, and return at night. The city was beautiful at night.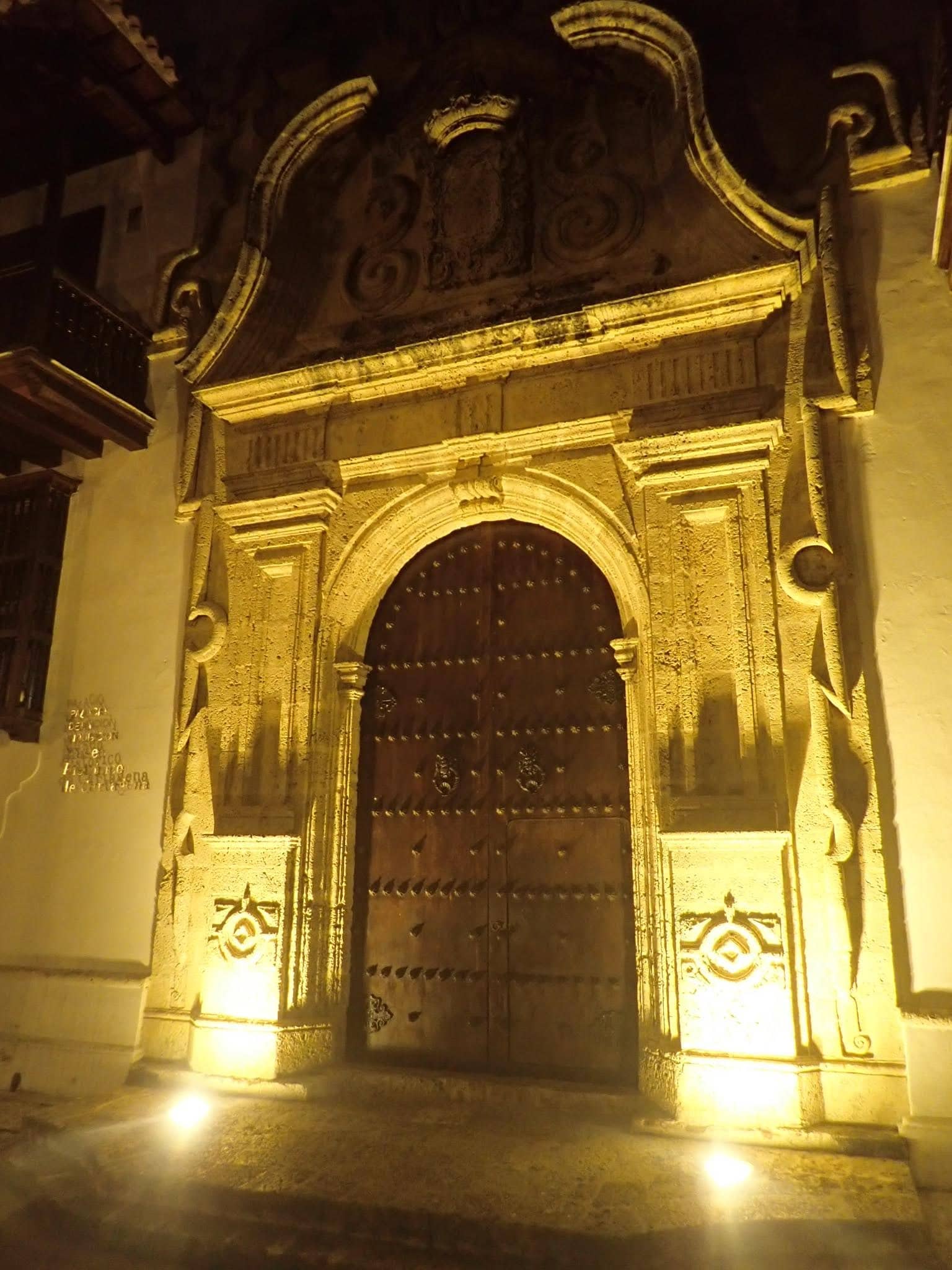 Still some questions remain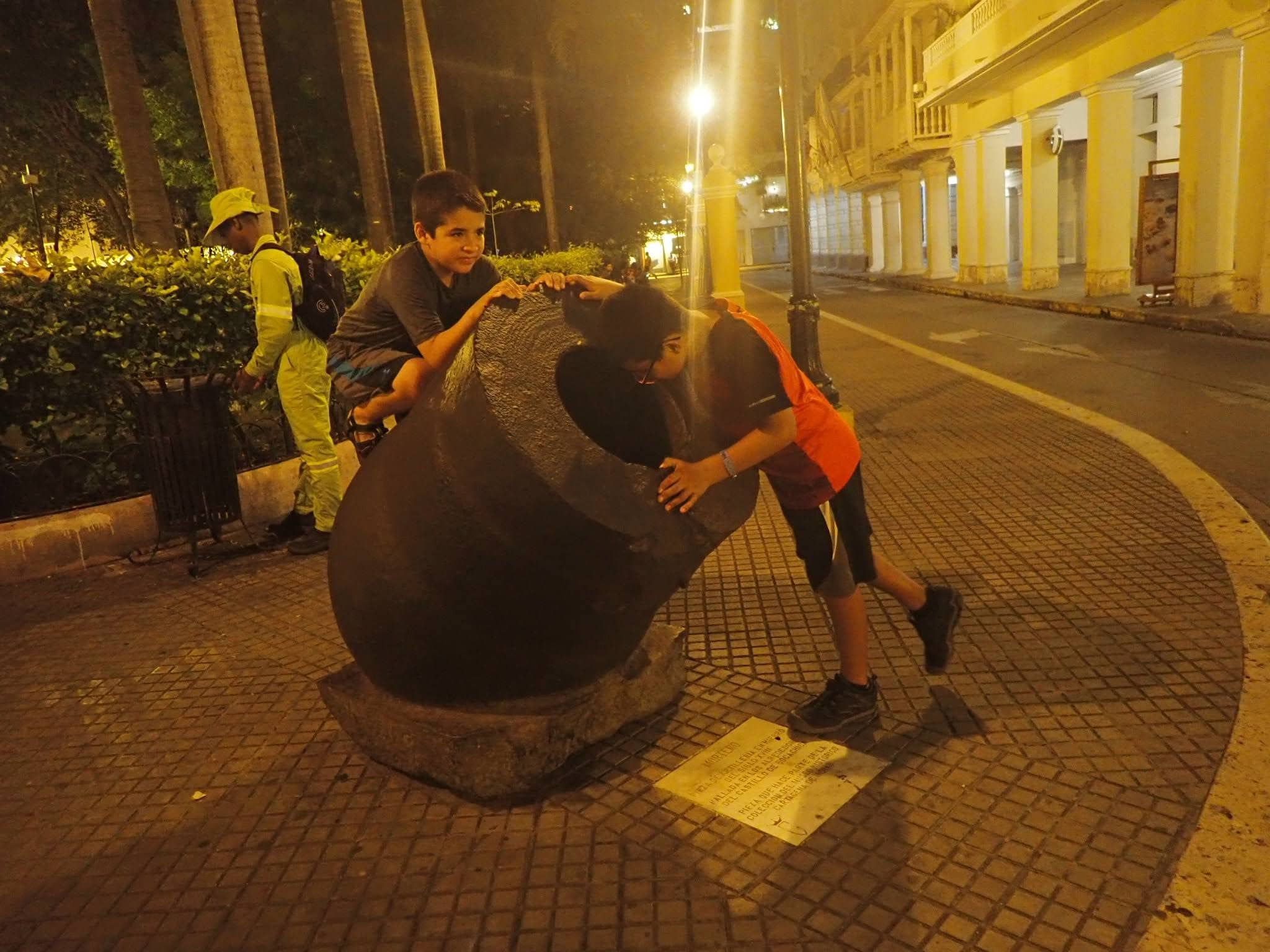 Have I not shown Mateo enough Bugs Bunny cartoons to know this is not a good idea?
Finally a stop with Juan Valdez
I finally had a chance to stop and visit my friend Juan Valdez. If you grew up in the '80s, you'd remember Juan from his many commercials. The cafes bearing his name are all over major cities in Colombia and remind me of the Tim Hortons chain in Canada. When we were at a homestay at Margus Coffee farm, we learned more about Juan Valdez. I will be posting about it in an upcoming blog.
My Thoughts
I'm glad that we have visited Cartagena. I enjoyed visiting the old town and the fort. On the other hand, I was ready to leave after a day. During this backpacking trip, I have come to realize that I enjoy smaller towns more than larger cities. If we had to do it over again, I think we could have stayed for a shorter time, or skipped it altogether. Cartagena is a city I do not need to visit again.
Thanks for reading and happy adventuring!
Where we were: Minca, Colombia
Where we are going: Medellin, Colombia