I hadn't been on a motorcycle since I rode on the back of my brothers when I was about 15! Thirty years later I had a chance to try it again, and that's how we left Sierra San Juan Ecolodge to get our next destination, Tayrona National Park.
Not only did they take us, but they also took all our stuff too! We had agreed with one of the employees at Sierra San Juan to take care of our extra stuff while we went to Tayrona. They were taking care of it while we went to Tayrona National Park. Not only that, they met us along our bus route to Santa Marta to return our stuff. This saved us time since the bus stopped for us and let us load our extra bags.
A little bit of advice
Before you get to Tayrona there are two important pieces of advice I can give you. Go to an ATM. There are no ATM's at the park entrance, nor in the park. You can use your credit card in different restaurants or book your accommodations with a 10% mark up. Entrance fees are only be paid with cash. We didn't know this and therefore were travelling with a limited amount of cash on hand.
Also to note if you plan to use your debit/credit card for payments, they heavily rely on cell reception for these transactions. There was more than one occasion that they did not get reception so we could not use our credit card.
The second piece of advice is to pack lightly. Take as little as you can. If you can leave the majority of your packs somewhere else like we did, it would be well worth it. We took a 50L bag for two-day packs with snacks and food, as well as a couple of daypacks with water. Even though there are 5 of us, that was too much.
Tayrona National Park
Before you enter you have to purchase mandatory health insurance. Like most insurance policies we didn't end up using it. Knowing there were poisonous/venomous animals, the insurance gave me peace of mind.
Once you enter the park you have two options. You can walk about 1.5 km to the first checkpoint, or you can take a Collectivo. If you choose to walk it will take approximately an hour, while you'll only be on the bus for about 10 minutes. The Collectivo is well worth it.
At this point, you can find your first set of accommodations. Here you will find the Ecohabs. These are the most luxurious accommodations in Tayrona, and they are also the most expensive place to stay. You can also find a tent or hammock here cheaper than other areas in the park, but you are also further away from the more preferable beaches. Since we have the kids we thought it would be preferable to stay as close to the beaches as possible.
If you move on from this checkpoint you will have another two choices. Option A rent a horse and it will take you to a checkpoint at the first set of tents/cabins or beyond. Option B is to walk to the same checkpoint.

Whenever you're presented with options option A is usually the better choice. So, naturally, we went for option B. Our lack of cash made this choice for us. We walked into the park with 250 000 pesos and we were not sure if our credit card would be accepted when we were going to eat. We also didn't know if we were going to stay an extra day so we had to be conservative.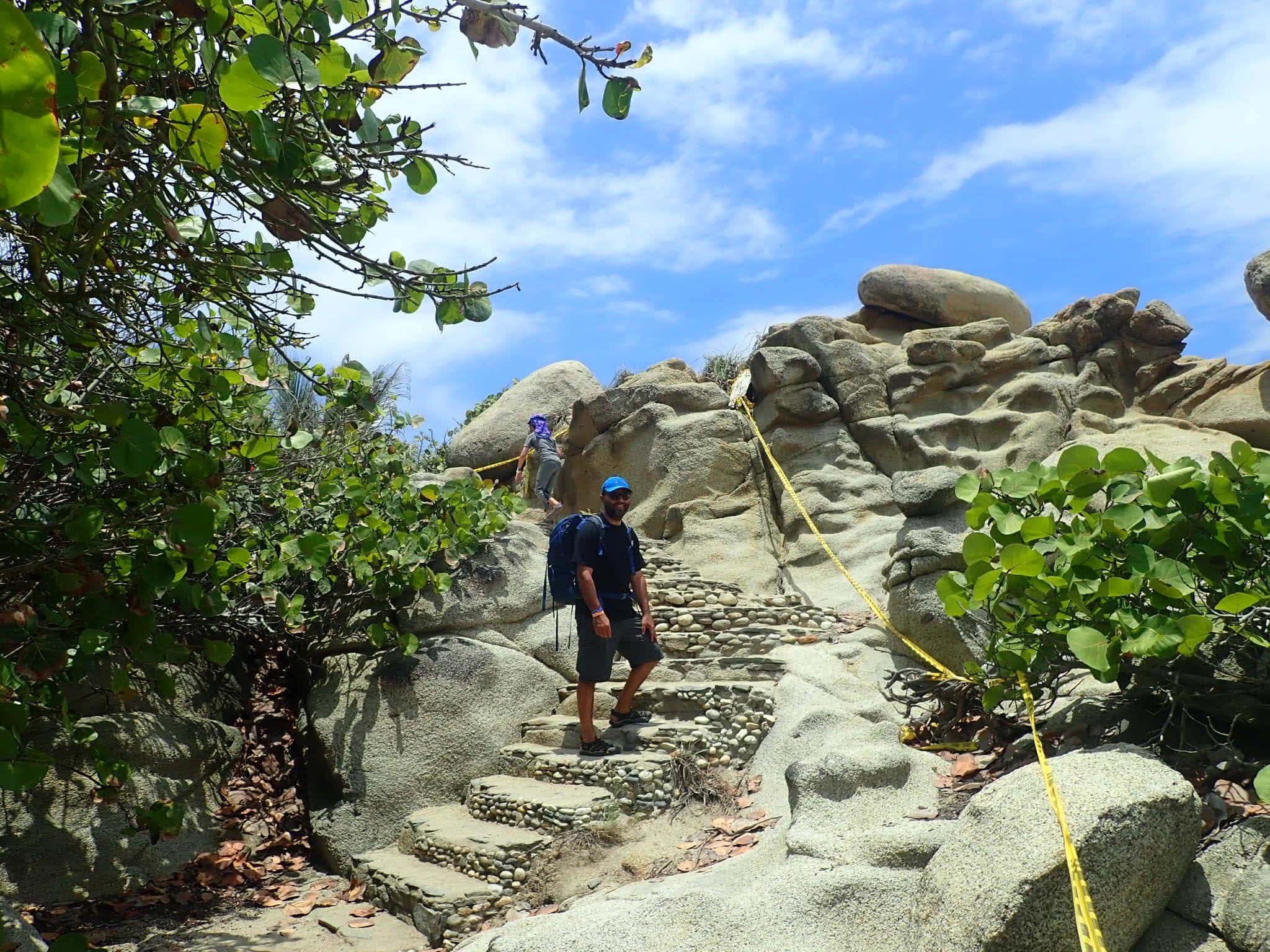 The walk itself is timed at about an hour and a half if you walk at a consistent pace. I'm pretty sure they didn't do that time with 3 kids. I would also venture a guess that they didn't do it at the hottest time of the day. The temperature was a few degrees below that of the sun's surface. We started our walk at about 11:30 am and finished around 2 pm.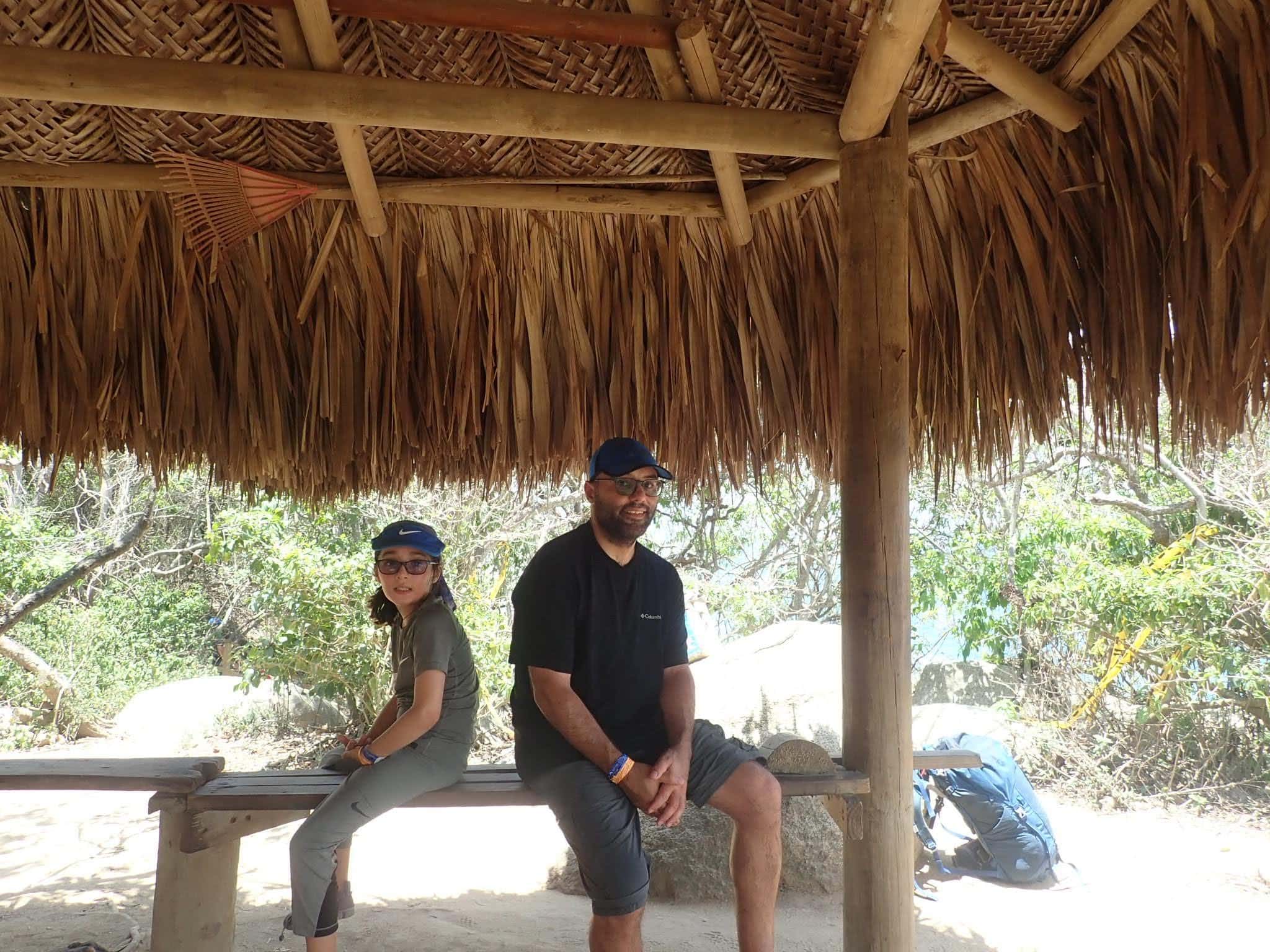 The walk seemed as endless as Mateo's complaining. Marco and Daniela, on the other hand, sped through. Marco distracted himself and Daniela by talking about video games the whole way. Charo didn't enjoy the conversation but they were moving at a good pace. How can we complain? We arrived at our campsite exhausted and overheated.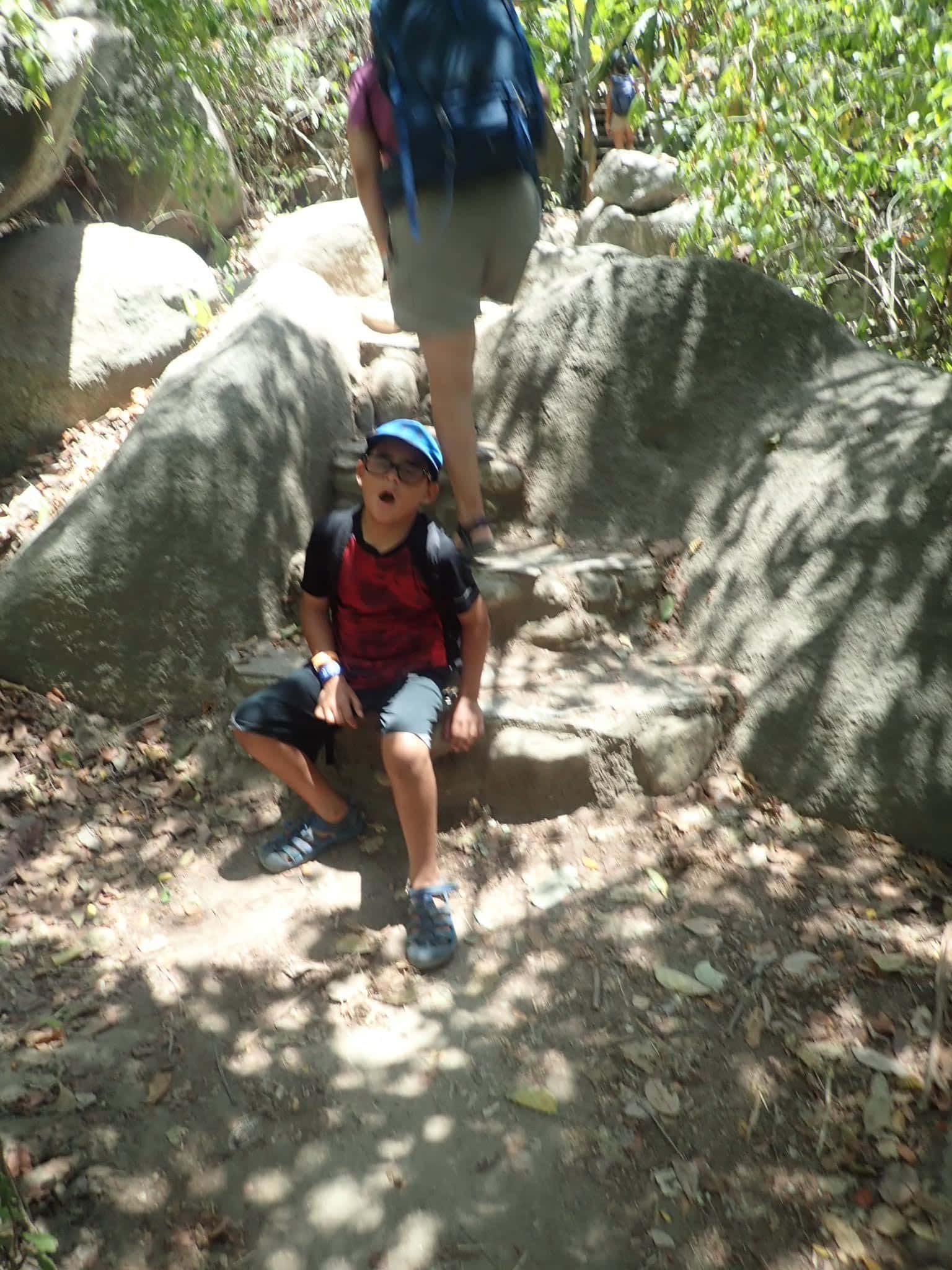 Don Pedro Campsite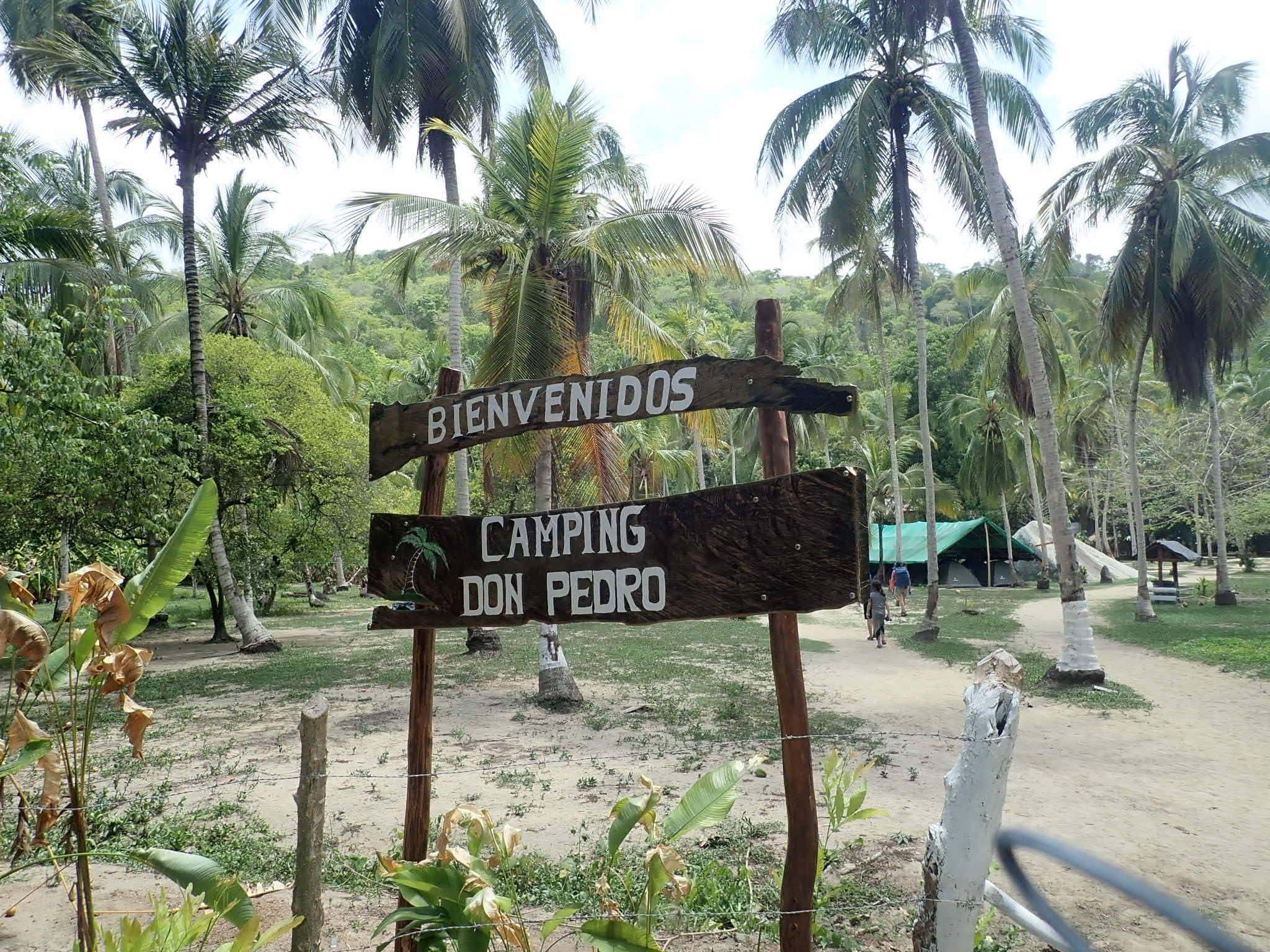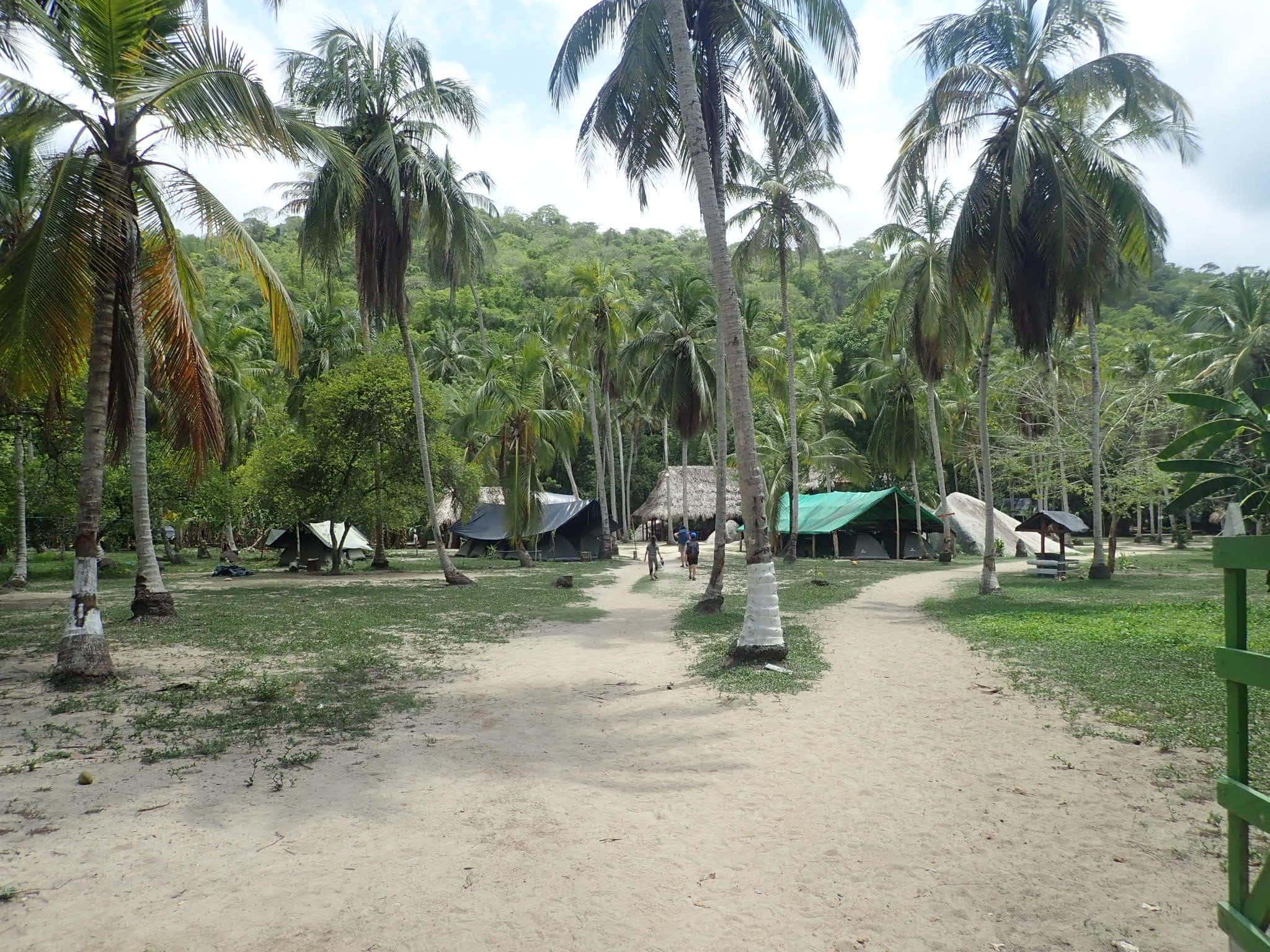 The next set of campsites is in an area called Arrecifes. The Don Pedro campsite, where we stayed, is an open area with some trees that have tents set up for camping in the park. At other campsites, you can rent out just a hammock! We chose to glamp of sorts. We rented a cabin. It was modest and had two double beds, with mosquito netting. The bathroom and shower were outside but were private. Not up to our friends' Charles and Rosanna's ideas of glamping, but great for us.
After an hour or so, Charo pushed us forward out of the room to go swimming. It took every bit of my will power to go because the beach was another 30-minute walk away.
La Piscina
The beach we arrived at, La Piscina, was sandy, calm and peaceful. There weren't too many people on this beach. However, we did see several people returning from an even further beach. After the day we had, this was a perfect way to end. The water-cooled us off, and the kids had some fun time in the sand.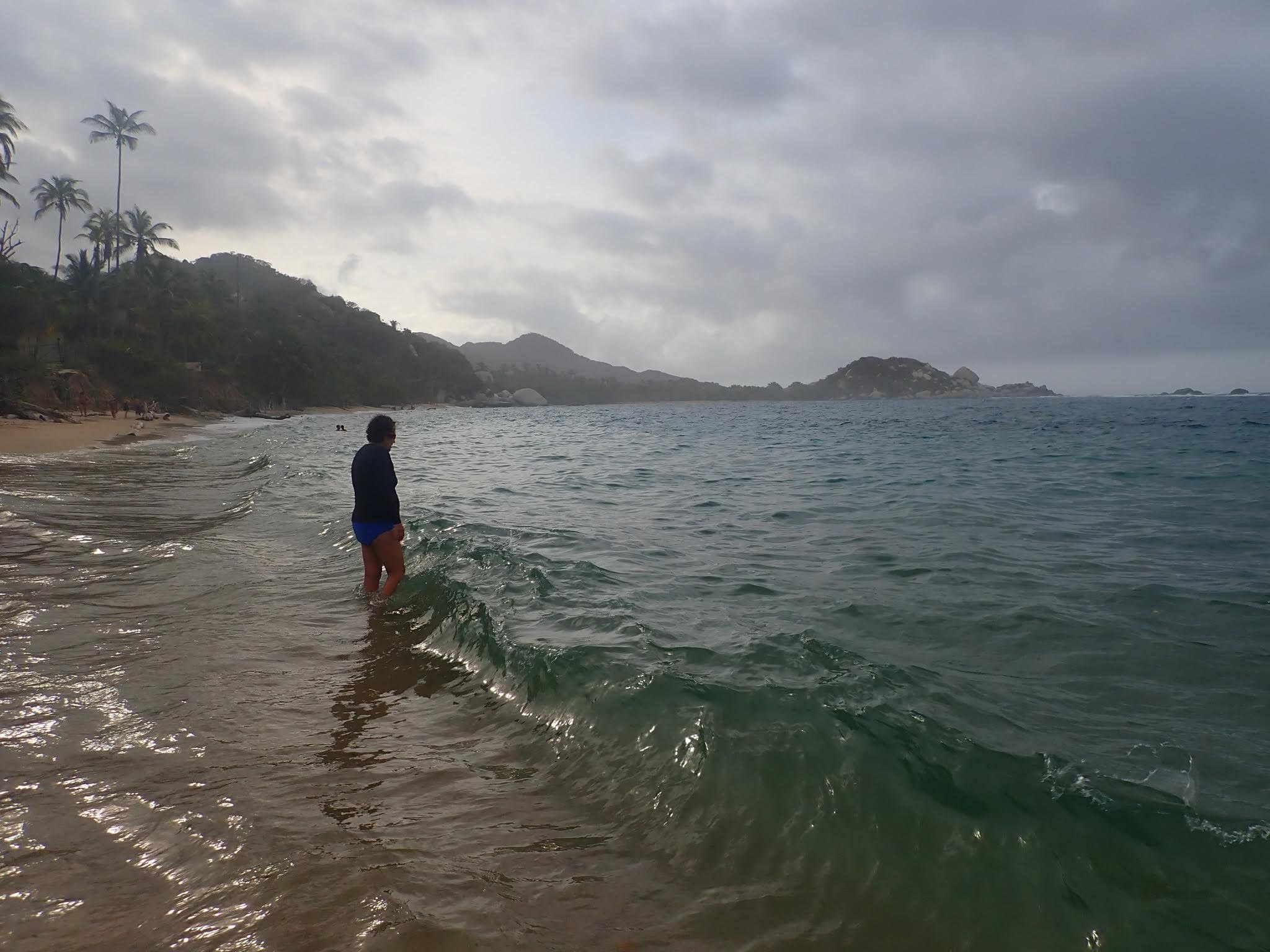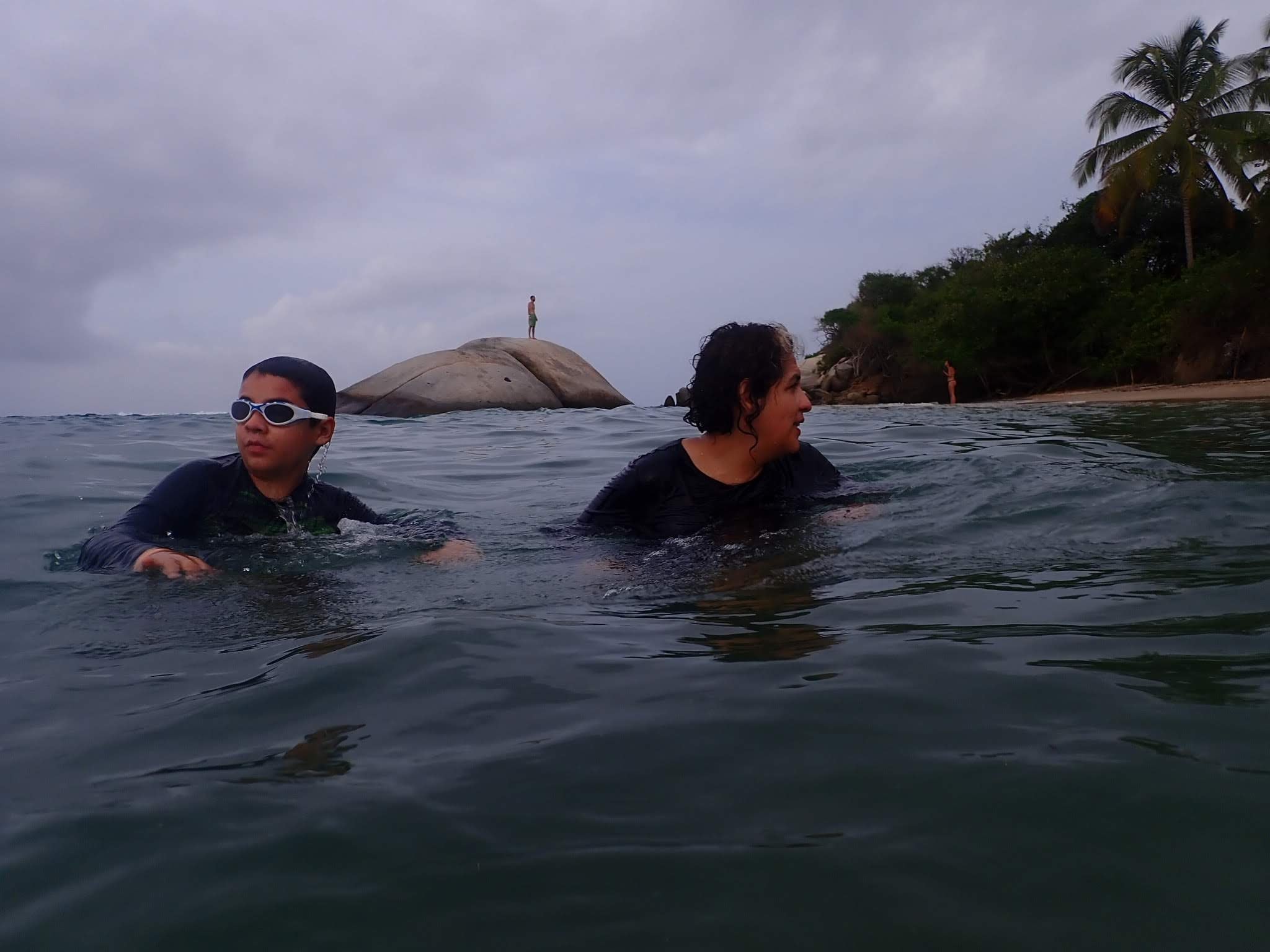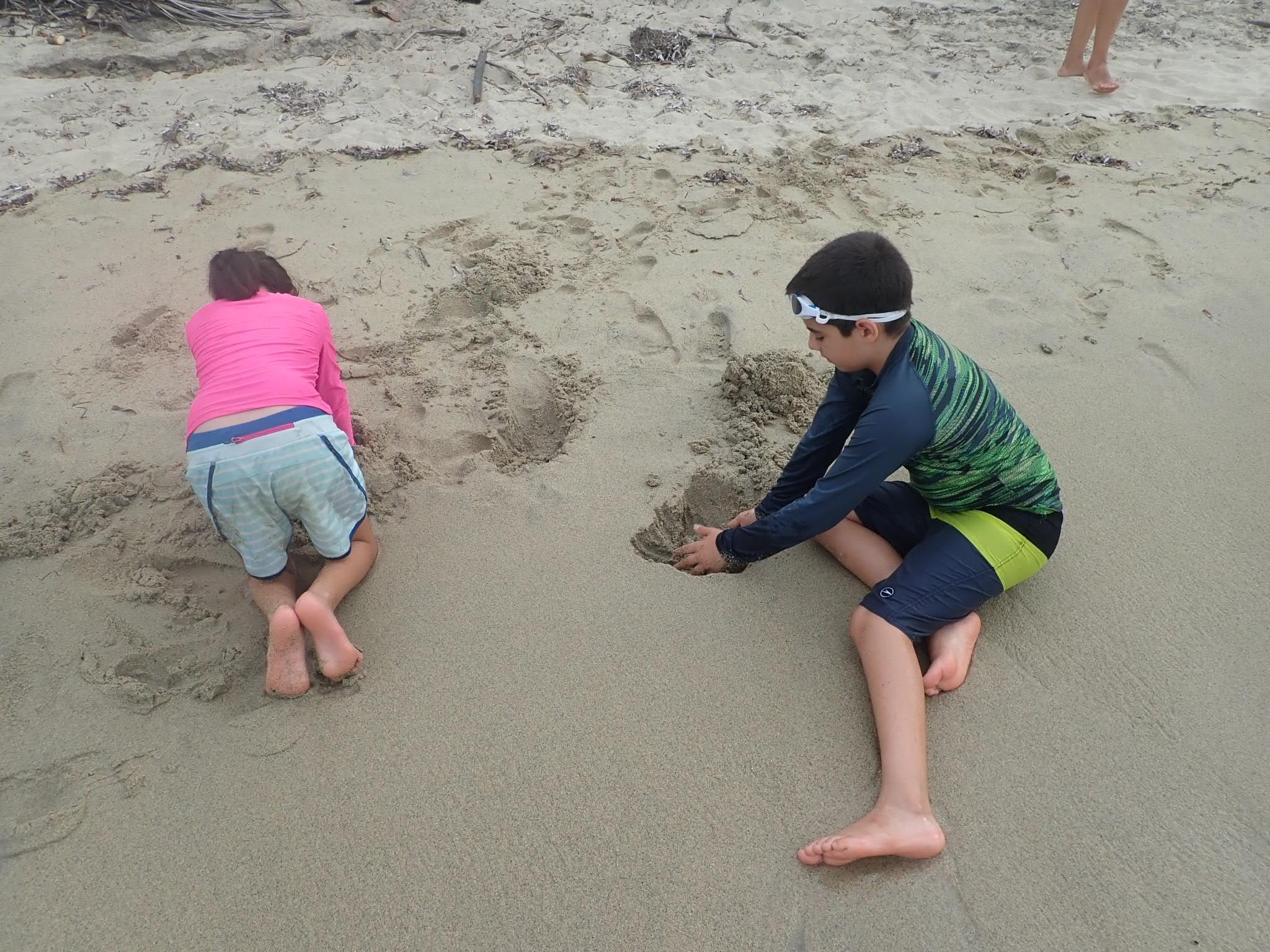 The even further beach
Another 20-minute walk from La Piscina was Cabo San Juan del Guia. We made sure to visit this the next morning, as we heard that it was the prettier beach, and it was.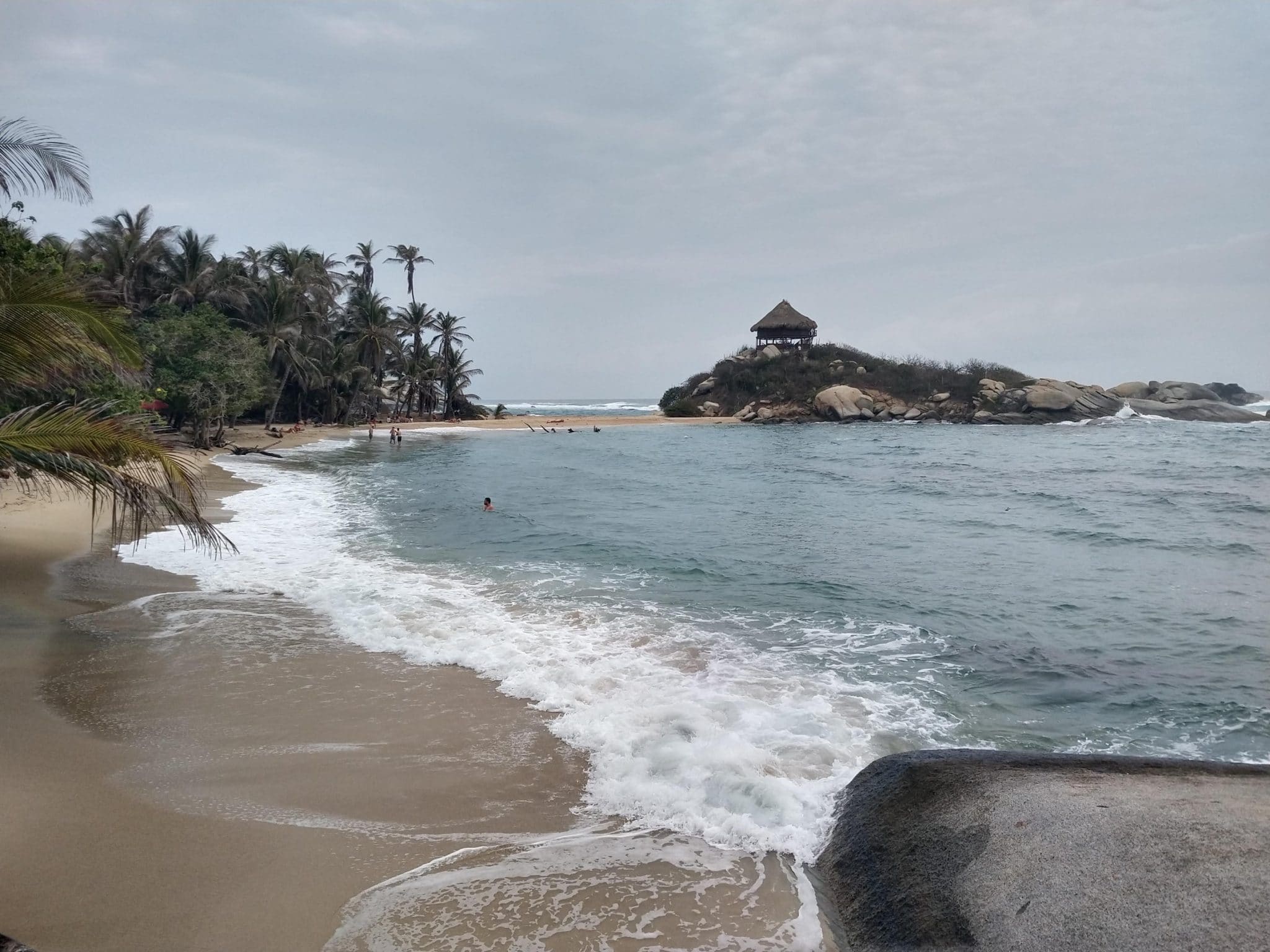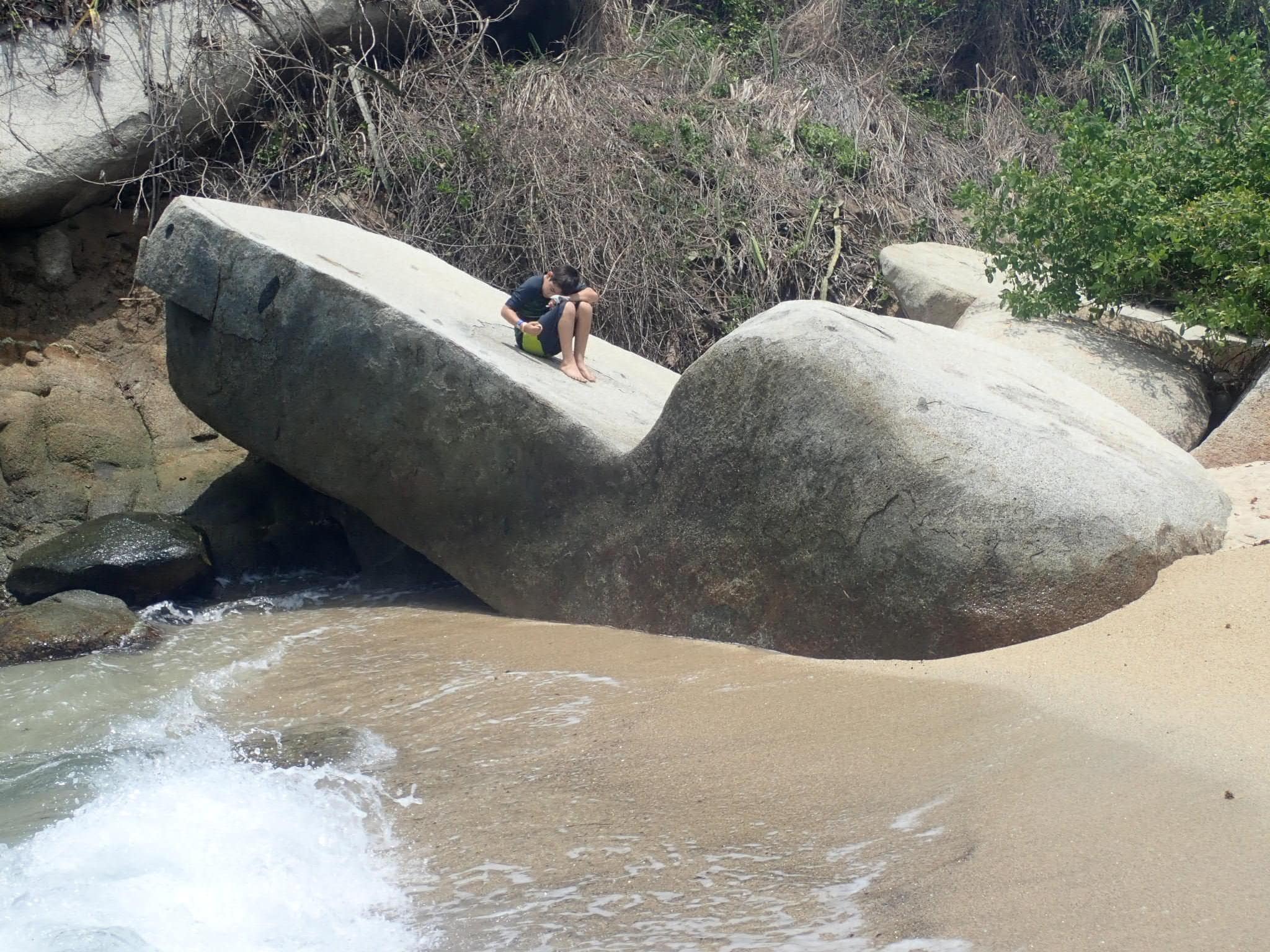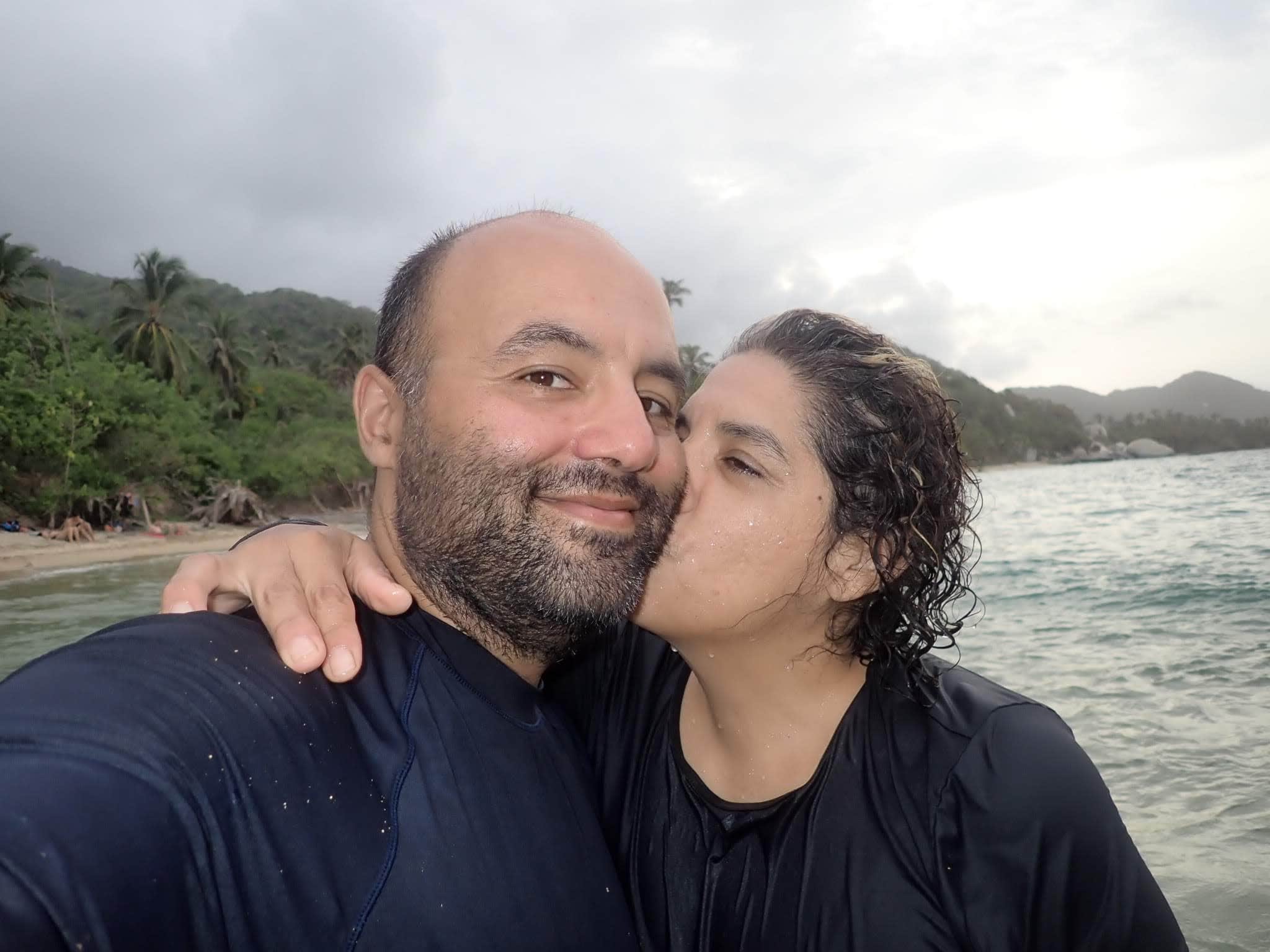 The views were much more interesting having the two beaches next to each other. On the downside, the waves were more intense and the water deepened quicker than La Piscina. If I were to spend another day in Tayrona with the kids I would say La Piscina would be the better choice.
Horseback: The better way
I learned from my mistakes. To leave the park Charo and I both agreed to rent horses. To do this we ended up paying for our meals using a credit card, even with the 10% mark up.
The nice thing about renting the horses, we were able to use this to lure the kids off the beach. I've never seen them so eager to leave. We quickly walked back to Don Pedro and retrieved our things.
Charo arranged for the horses to meet us at Don Pedro. They not only carried us but our packs. The price was 25000 pesos per horse, about $10 US. Remembering the walk-in I figured this was a great investment, and it was. We made it out of the park in about 40 minutes to the great disappointment of Marco, Mateo, and Daniela.
All three of them enjoy riding horses. Both Daniela and Mateo are natural riders. Even though the horses are tame, they easily controlled them. If Mateo had his way, he would have cleared the park in under 5 minutes.
Charo, on the other hand, was the complete opposite of the twins. She had many a moment where she was terrified, letting out little yelps. She finished the last part of the trip walking. After this, she claimed that was the last time she rides a horse.
What bit us?
Okay, we are in a jungle setting. Perfect place for bugs to incubate so we protected ourselves. We've researched and read mosquitos love dusk and dawn, so we tried our best to protect ourselves. The first night Charo and Mateo were bitten quite a bit on the return from the beach. I, on the other hand, was bombarded on the horse ride. It felt like it was over a week for the itchiness to subside. My tip to you, always wear your bug spray while you're in Tayrona.
What did we think?
Truthfully, it was hard to enjoy Tayrona that first night. We were all exhausted. To make it a more pleasurable experience we should have gotten there first thing in the morning or rented a horse to complete the walk. It was beautiful, and the beaches were great. If you're travelling with a family don't try and do it in a day. Stay a night or two and make sure to bring cash and bug spray.
You can find out more about Tayrona National park at http://www.parquesnacionales.gov.co/portal/en/
Thanks for reading and happy adventuring!
Next Stop: Santa Marta
Our last stop: Sierra San Juan Ecolodge, Bonda