The last time Charo and I were in Granada was 11 years ago. Not only were we (I) carrying our packs at that time, but Charo was also carrying Marco as she was 5 to 6 months pregnant. It was a beautiful place to visit then, and we were hoping it would be the same this time around.
We arrived in Granada after arriving from Leon via two local buses. Navigating this was pretty easy as one bus dropped us off in a small terminal in Managua, and the other bus is located at the other end. In Granada, we arrived at the central square, and we carried our packs to our hostel. Luckily, it was only a block away from the main square.
Casa del Agua
When we walked into Casa del Agua from our bus trip, we were immediately greeted by Mimi, one of the ladies who works there. She greeted us with a glass of water and some freshly popped popcorn.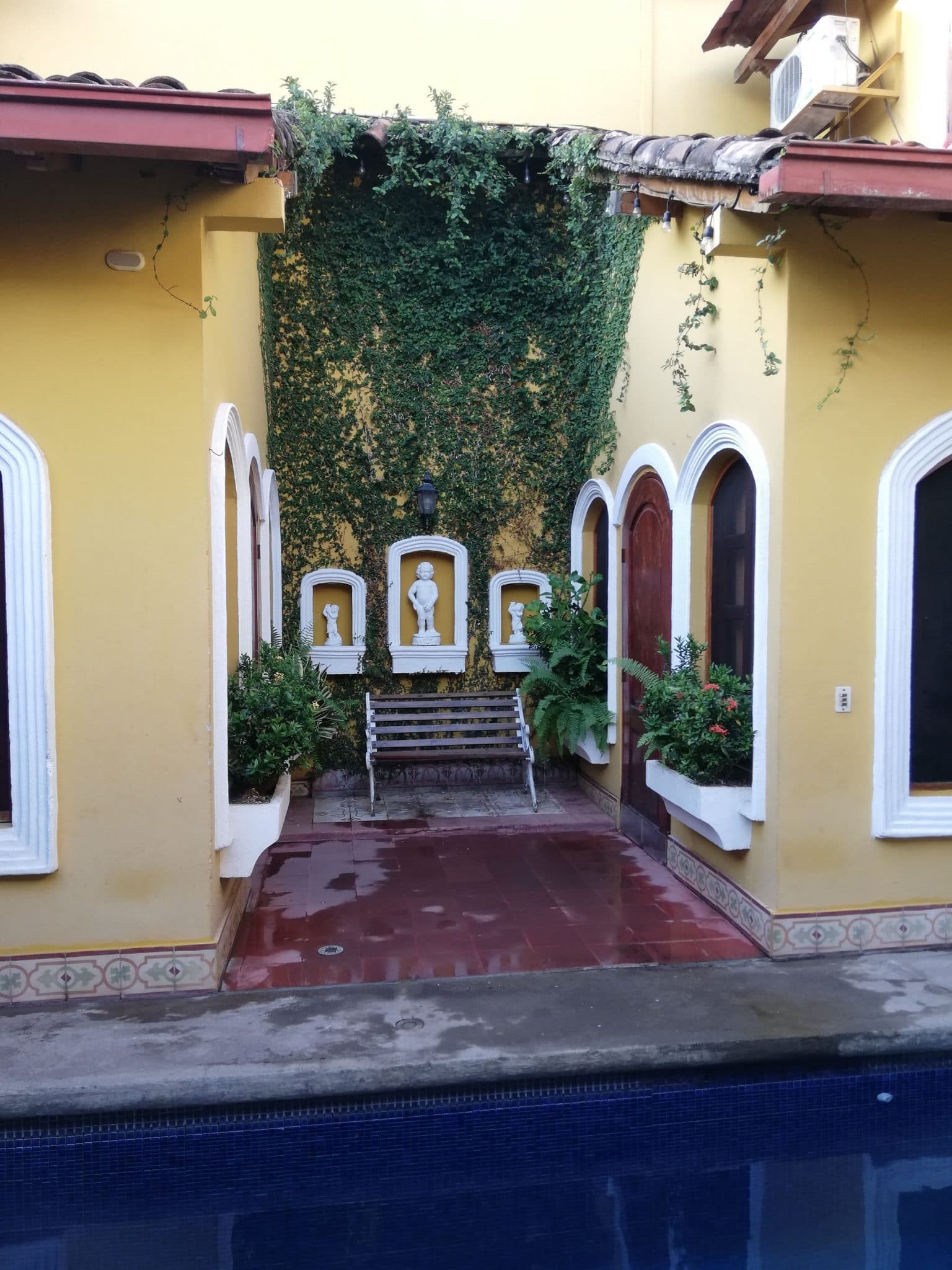 Since we are travelling for a long time we always prefer to stay somewhere we can prepare our food. In the morning, Gerry made breakfast for us. He treated us to pancakes and fresh fruit with freshly brewed coffee all day long. In the afternoon, we had full use of the wonderful kitchen, so we went to the market and bought fresh fruit every day. How can you beat a dozen mangos for a dollar!
We also took a look at where we were sleeping. When we entered the room, we saw one bed which was worrisome until we saw the second floor. Charo and I slept on the main floor, and the kids had three single beds on the second floor with there own bathroom. Imagine, kid-free, even if it is only at night. Well, keep imagining as one or two of them would always find there way into our bed during the night.
After a brief tour of the place, Charo and I both had the same idea; we are going to stay a few days longer. Casa del Agua looked comfortable and felt comfortable. We were not wrong.
On a side note, when we stay longer at one location, it means we are not going to be able to visit another place. In this case, we will miss Ometepe, an island with two volcanoes on Lake Cocibolca.
While you're staying at Casa del Agua, make sure you spend some time chatting with Gerry, the owner. When you first meet Gerry, he is straightforward when talking about the house, and Granada. He wants you to enjoy your time in Granada. He is incredibly knowledgable and friendly. Gerry even recommended a place to stay while we were in Atenas, Costa Rica. Our stay at Casa del Agua was a pleasure, and we recommend it to everyone.
Exploring Granada
Much like Leon, it is a walking city. We spent a few days just walking around, being amazed by the colonial structures that were here.
Negatively, when walking in the town square, you will be bombarded by street vendors trying to sell you things or selling a service. We were constantly approached, even when we were sitting to eat.
It was a good time for a lesson for the kids. During our trip, we tried to save money as we are on a budget, and we are not buying any souvenirs. We do try to treat the kids to ice cream. We always tell the kids, if you touch something, you'll be responsible for buying it. On one occasion, there were some street kids who gave my kids flowers made of palm leaves. Then they expected to be paid for them. So, that day, the kids used their icecream money to buy the flowers. They were disappointed. From then on, the kids knew to say no gracias. *** Mateo became so direct with this that some of the street vendors mimicked Mateo, which made me laugh.
When we arrived in Granada, Charo and I both noticed that something was going on in the central square. Every August they have a celebration, the assumption of Mary, so we tried to join in as best as we could.
One of the days, there was the running of the bulls! We sat up high and tried to get a good glimpse. Unfortunately, the bulls decided to run down a different street. There you have it, no bull!
When walking around town, make sure you go to the Cathedral. There is a small fee and children are free. You will have the best views of the city from the clock tower.
Food
While we were in Granada, we spent a lot of time cooking as we had access to a kitchen, but we did have some excellent local cuisine.
Activities in Granada
Masaya Volcano
I've never been to an active volcano before, and I didn't realize how magical it was. I couldn't pull myself away from watching the lava churn. As the sky darkened, the lava glowed more and more.
It was amazing. I'd make this a stop on my trip again. However, the kids thought otherwise. They were upset that there was no danger, and they weren't forced to run away from the lava. If you have kids, this an easy way to see a volcano. There is absolutely no hike to this volcano. You hire a taxi from Granada, and they'll drop you off, wait for you and drive you back. We even convinced our driver to stop so we could pick up some food along the way. This worked for us because we were a family of 5. If you are only one or two people, there are plenty of tours available. As a family of 4 or 5, investigate taking a taxi, we saved $25 and had flexibility in time.
Horse-drawn Carriage Tour of Granada
We took a tour of the city via carriage. This trip cost us about $25, and we spent almost 2 hours on this tour.
There are plenty of carriages to choose from. When you go to the central square, you will have your choice of drivers wanting your business. They all charge the same price, so you can be choosy. We made sure to find someone who spoke excellent English. All the carriages have a number on them, so if you want to have the same tour guide we had, look for carriage 38.
One of the stops on tour is the chocolate tour. We have been on a lot of these, so I can't tell you how good it is. The kids kept telling our guide the process. The good news is my gang can explain the process of making chocolate from harvest to finished product.
Time for a Hair Cut
My father was a barber. His brothers were barbers. A few of my cousins are hairstylists. Why the background? Well, for the second time in my life, I received a haircut from a non-family member. It felt like being in my dad's barbershop over again.
All in all, we had a fantastic time in Granada. We all enjoyed our time there. Next up, we are going off to Atenas, Costa Rica. Lucky for us, its Ticabus time!
Thanks for reading and Happy adventuring.
Our Next stop: Atenas, Costa Rica
Our Last stop: Las Penitas, Nicaragua