After visiting Leon, we decided to chill and relax. So, off to the beach! Las Peñitas is only a 30-minute drive away. We took our time in the morning, had some smoothies for breakfast, bought some groceries and found a taxi to take us to our destination.
Our Taxi
Charo hailed down a taxi outside our hostel, negotiated cost, about USD 10, and as usual, I insisted she sit in the front seat. Not only does she get more room, but she can talk to the driver and get some local knowledge. More often than not, our drivers have been more than talkative, and today was no exception. The two spoke for about 10 minutes when Charo turned to us and said, "This is Ricardo, and he wants to practice his English with everyone." Mateo and I jumped at the opportunity. His English was way better than my Spanish. He apologized for his English, and I apologized for my Spanish. I am in a Spanish speaking country, and it's on me. It is a good wake up call for me to continue (start) practicing. Ricardo enjoyed our conversation. Then he asked if he could call some friends to meet us at the beach so they could practice their English as well. We had a date!
As we drove along, Charo asked us all in the back who wanted to learn how to surf? All four of us, of course! Ricardo set us up as he was a surf instructor, as well. We dropped our things to our hostel and off we went. We had an instructor each for a one-hour crash course on surfing.
Surfing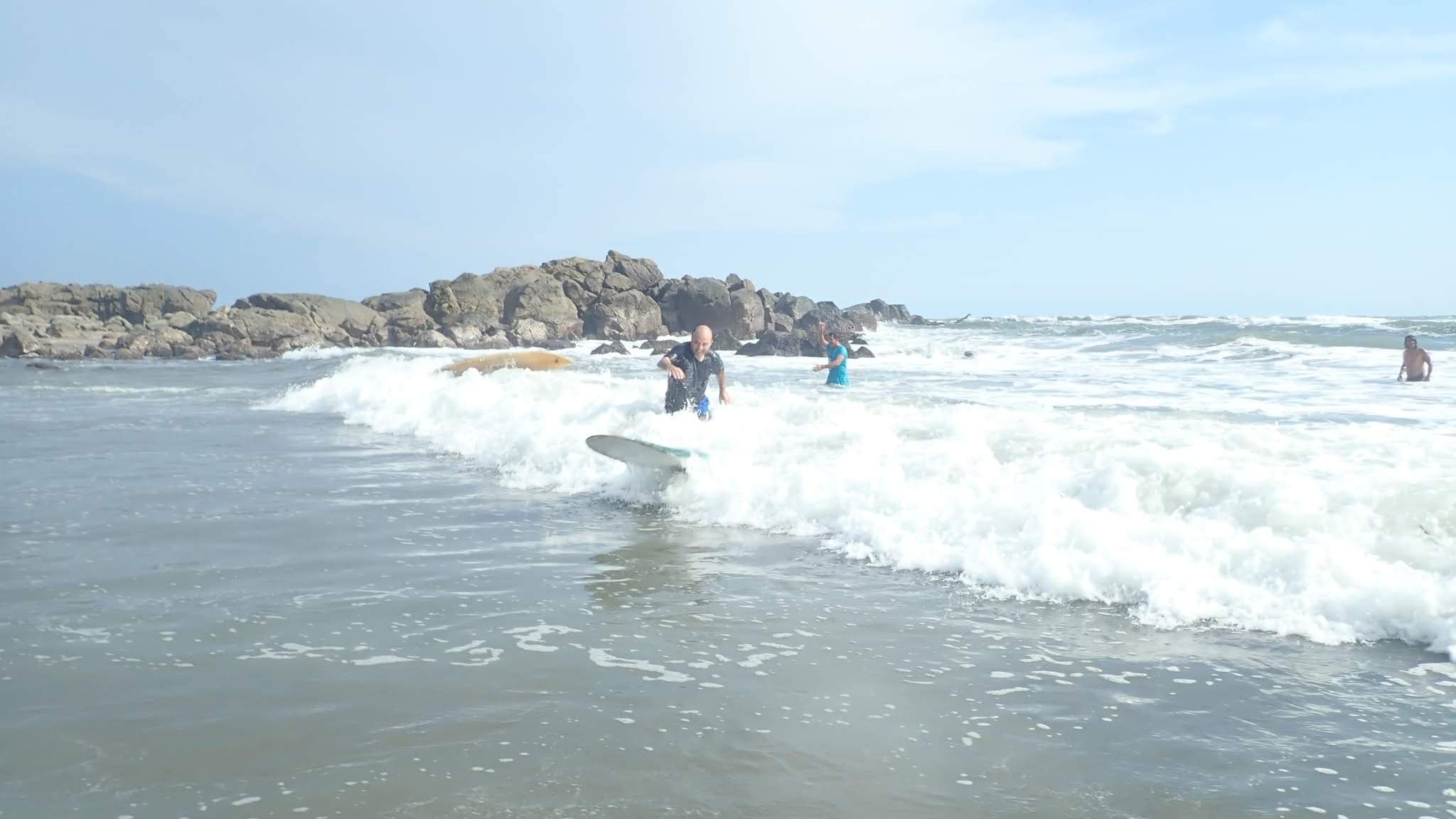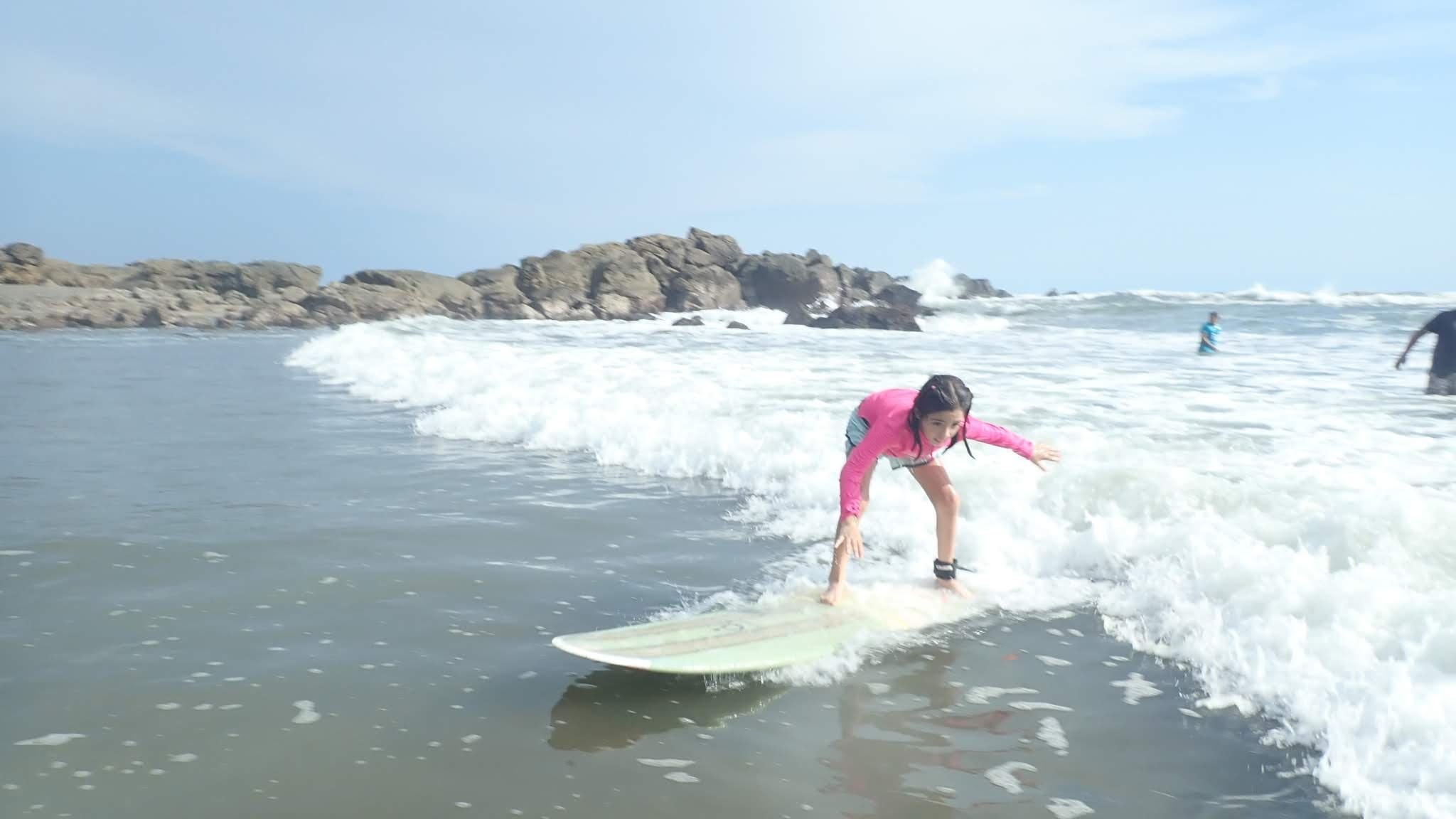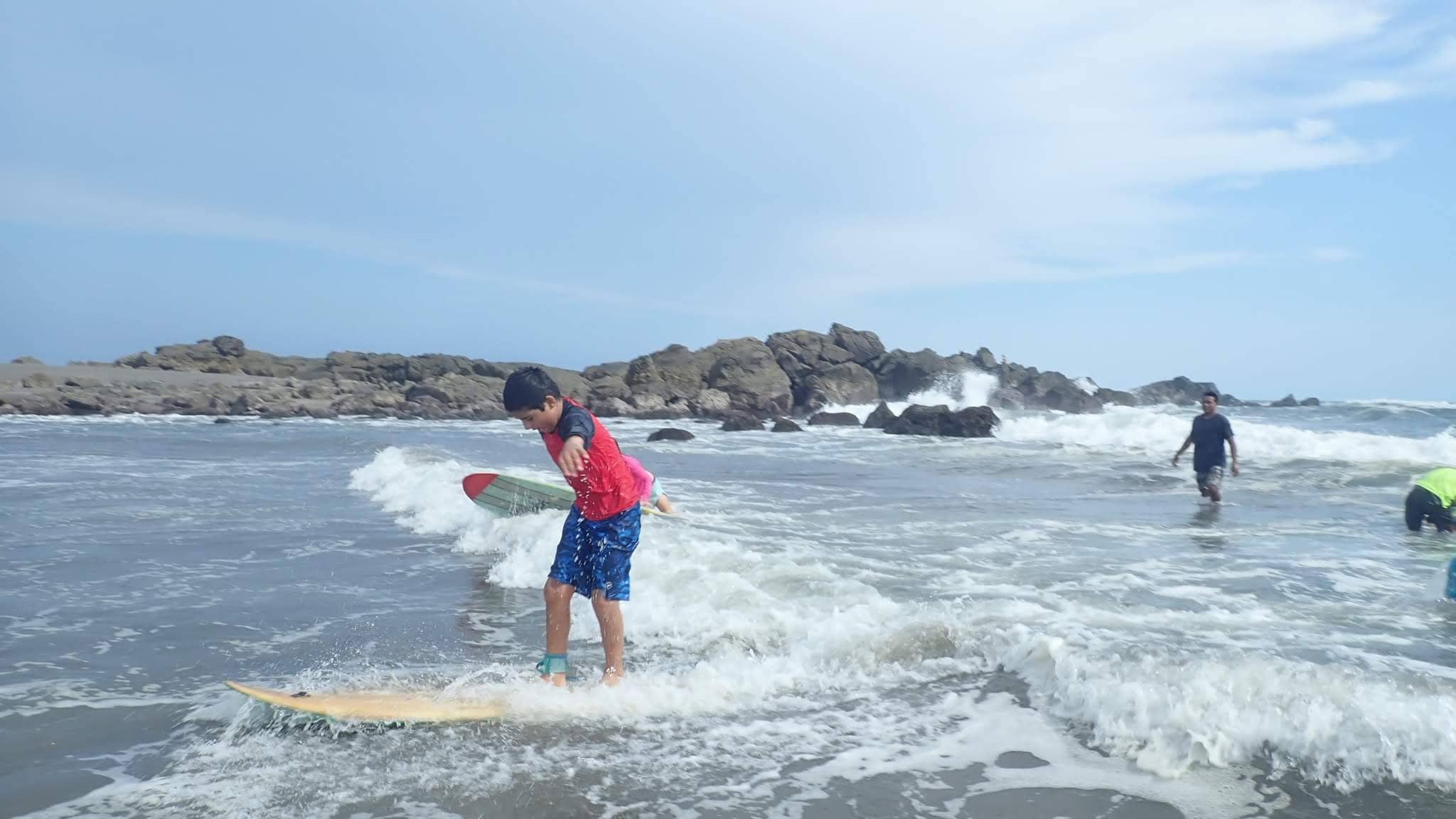 It was a fun afternoon, and Ricardo stayed extra time with the kids. He seemed to be enjoying it as much as they were. As for me, I was glad to take a break on the beach. I got up on my board twice and am proud to say I have now surfed. I'm not going to lie. I was extremely sore the next morning. I am now contemplating official retirement from surfing; it's a discussion I will be holding with my family.
After surfing, Mateo and Daniela spent about an hour swimming and speaking English with Ricardo's friends. They were laughing and talking. In the end, Ricardo thanked us for our time. Ricardo seemed like a genuinely lovely person, if you ever are in the Leon area and need a taxi driver, or want some surf lessons, feel free to contact him. He's on Facebook, search Ricardo Sandoval Taxi driver, or you can send me a message for his Whatsapp number.
Mano a Mano Eco Hostal
We arrived after surfing when we all went directly to our room and got changed. Charo and I started getting some things in order, and the kids went outside. Marco needed some me time, so he went to read on his Kindle. We found Mateo and Daniela sitting with a few adults. Suddenly there was a roar of laughter. We looked over. It was Mateo and Daniela taking turns telling stories. After a while, I decided to go over and make sure they were not monopolizing the adult time. When I approached, Mateo was able to introduce me to everyone at the table. It was pretty cool, and the group insisted my gang was entertaining and no trouble at all.
Charo and I later learned they were hanging out with the staff, and co-owner of the hostel, Kevin. From then on, our guys were unofficial employees of the hostel, always asking to help their new friends with all types of jobs.
We also got the opportunity to meet Marcos, the owner of Get Up Stand Up Surf, who I wrote about here. All of the people here are super friendly and impressive individuals. 
You can rent boogie boards for 100 C for a full day's use.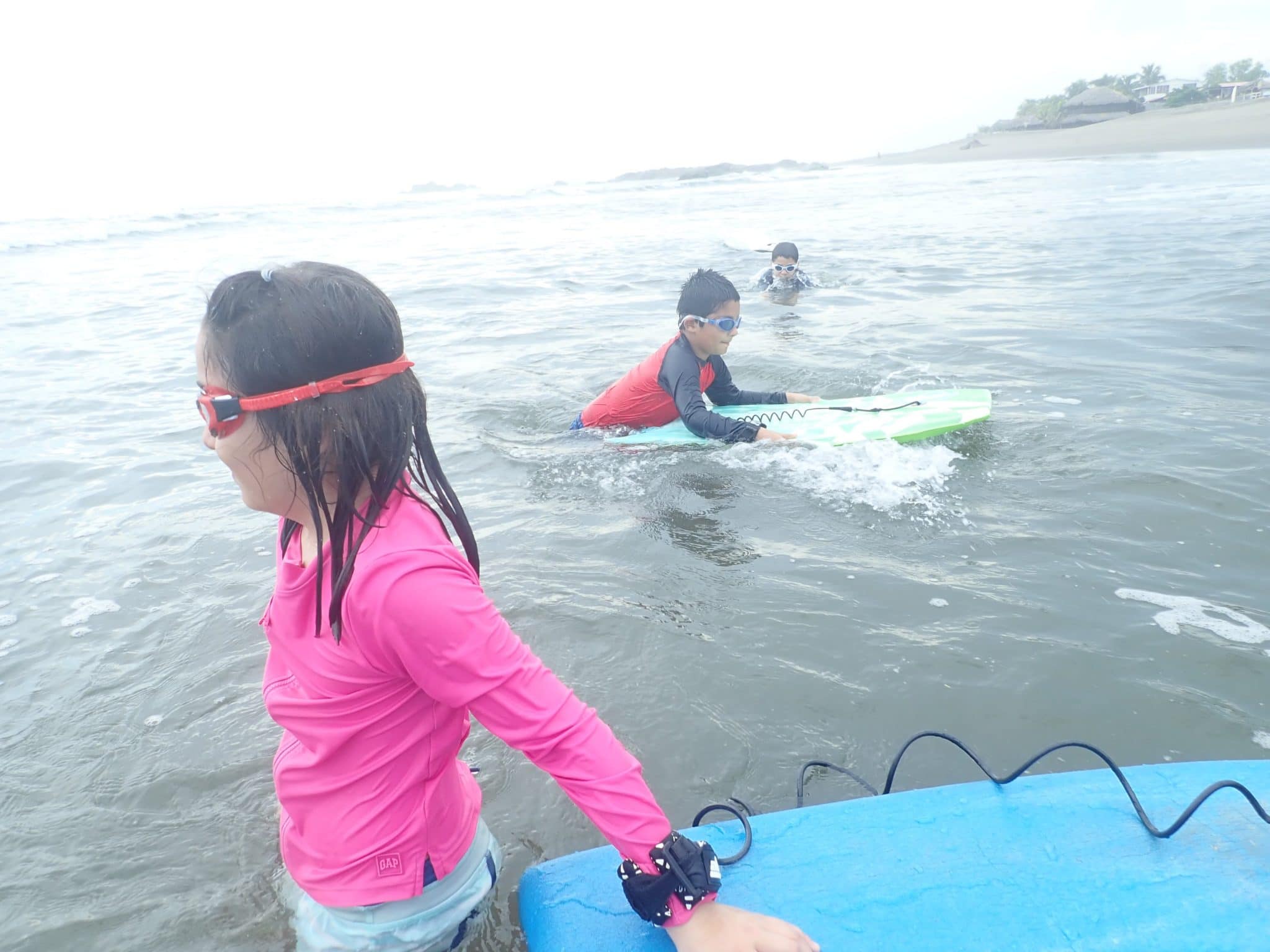 Daphne taught the kids how to make chocolate from scratch. They went through the whole process from roasting the cocoa beans right to the final product. She should offer this as a course to the clients.
Mmmm… Chocolate
Our room was just as amazing as our experiences with the people there. Our room was called Cedro private family loft. As the name says, it was a private room with a private bathroom, which we always recommend when you're travelling with children. We had a queen bed, with four twins in our bedroom, all at different levels in the room.
If you arrive Las Peñitas with your family, you can't get any better than Mano A Mano Eco Hostal. We can't think of one negative about our time, our accommodations, the clientele or the staff. We regretted only to stay two nights. We tried to extend our stay, but they were booked solid for the weekend.
For more information, you can find them at: https://www.manoamanoecohostel.com/
Thanks for reading and Happy Adventuring!
Next Up: Granada
Previous post: Leon