We arrived in Leon after a long but comfortable bus ride on a Tica bus. Leon was the first place on our trip that we did not have a specific place reserved to stay. So, we were dropped off, and that's when Charo got to work.
We unloaded all of our backpacks off the bus, parked ourselves at the bus stop. Charo disappeared to try and find us a hostel to stay in. While we were there, I was approached several times by a bicycle taxi to take us to our hostel. I thought it might be a good idea if we weren't travelling with three kids and five backpacks. To make the trip comfortably, we would have to hire 3 of them. It was much cheaper to hire a taxi which we did in the end.
After about 10 minutes, Charo returned with news that she had found a hostel for us. Once again, she researched through the Lonely Planet and boom we had a spot at Lazybones Hostal.
On the outside, it doesn't look like much, but when you enter you are treated to a small reception area, an open-air garden with hammocks, a pool table and a swimming pool. As a family, this place had everything we needed to be comfortable.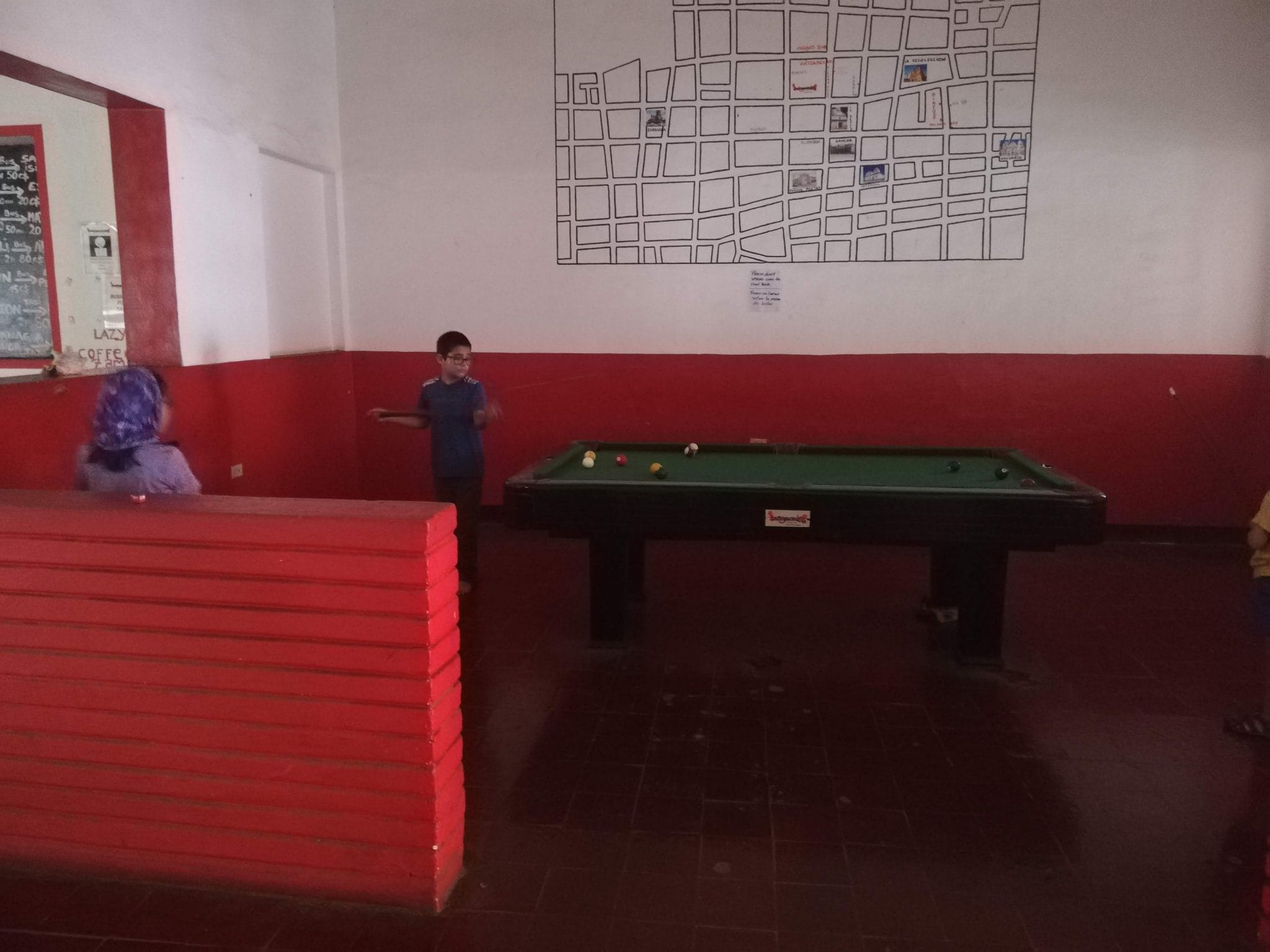 Our room had two levels. The first level had a queen bed with a bathroom, while on the top floor, there were our two singles. They could easily fit another single bed on the top floor, which would have suited us perfectly.
The service was great. They were always helpful and friendly and allowed us an area to do our laundry.
What we did notice that there were somethings that were slipping. The owners admitted to us that they don't have the money to do the repairs and trying to sell the place. We can't recommend staying at Lazybones right now, but it does have potential with the right new owners.
Investigating Leon
Beautiful is an understatement. The different colours and the old world construction was a marvel to see.
We went to Leon Cathedral. On the side of the Cathedral there is a door that leads you to the roof of the Cathedral, and It cost us as a family just over USD 10. This is on the must list if you visit Leon. The views of the city are spectacular!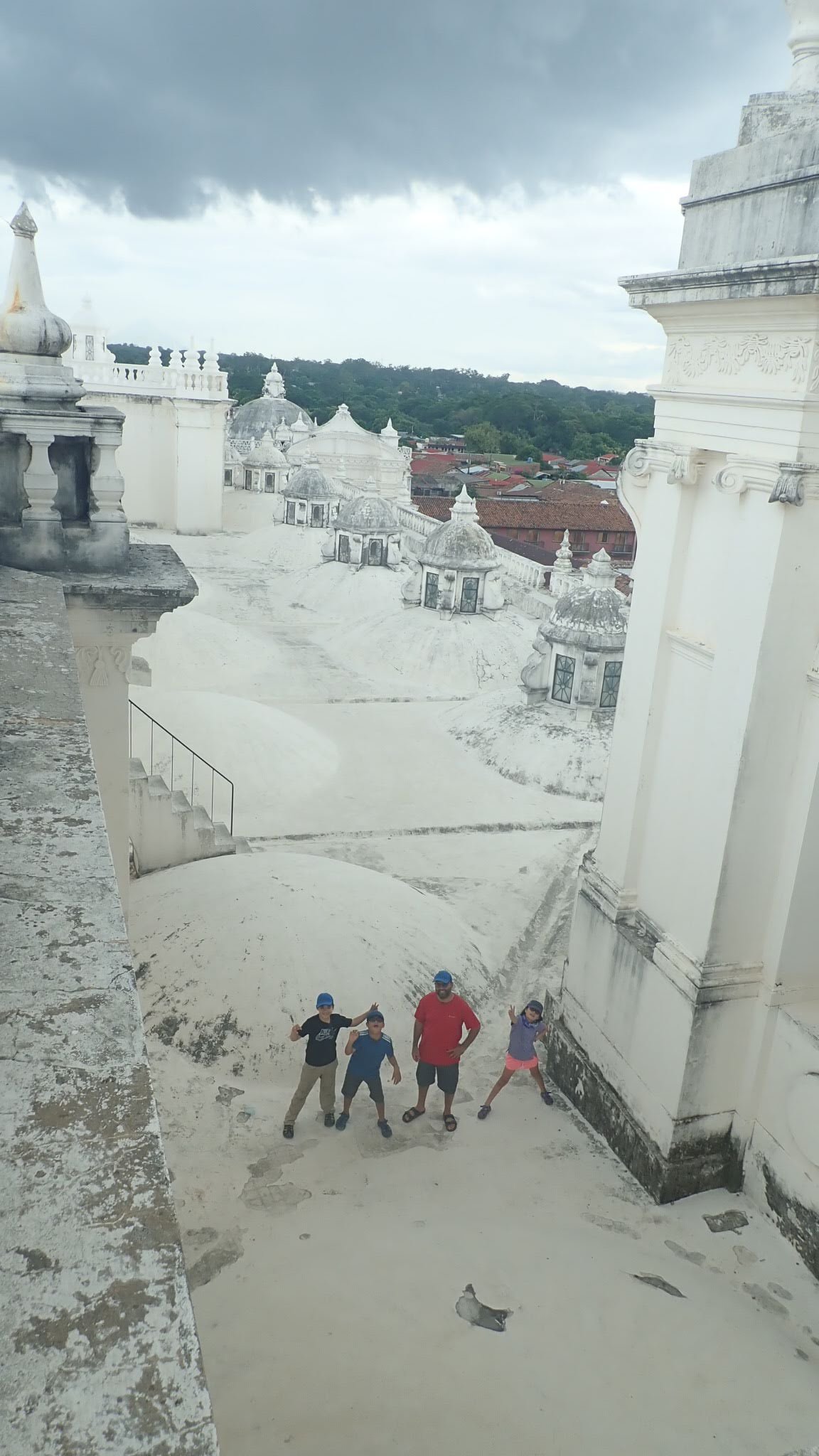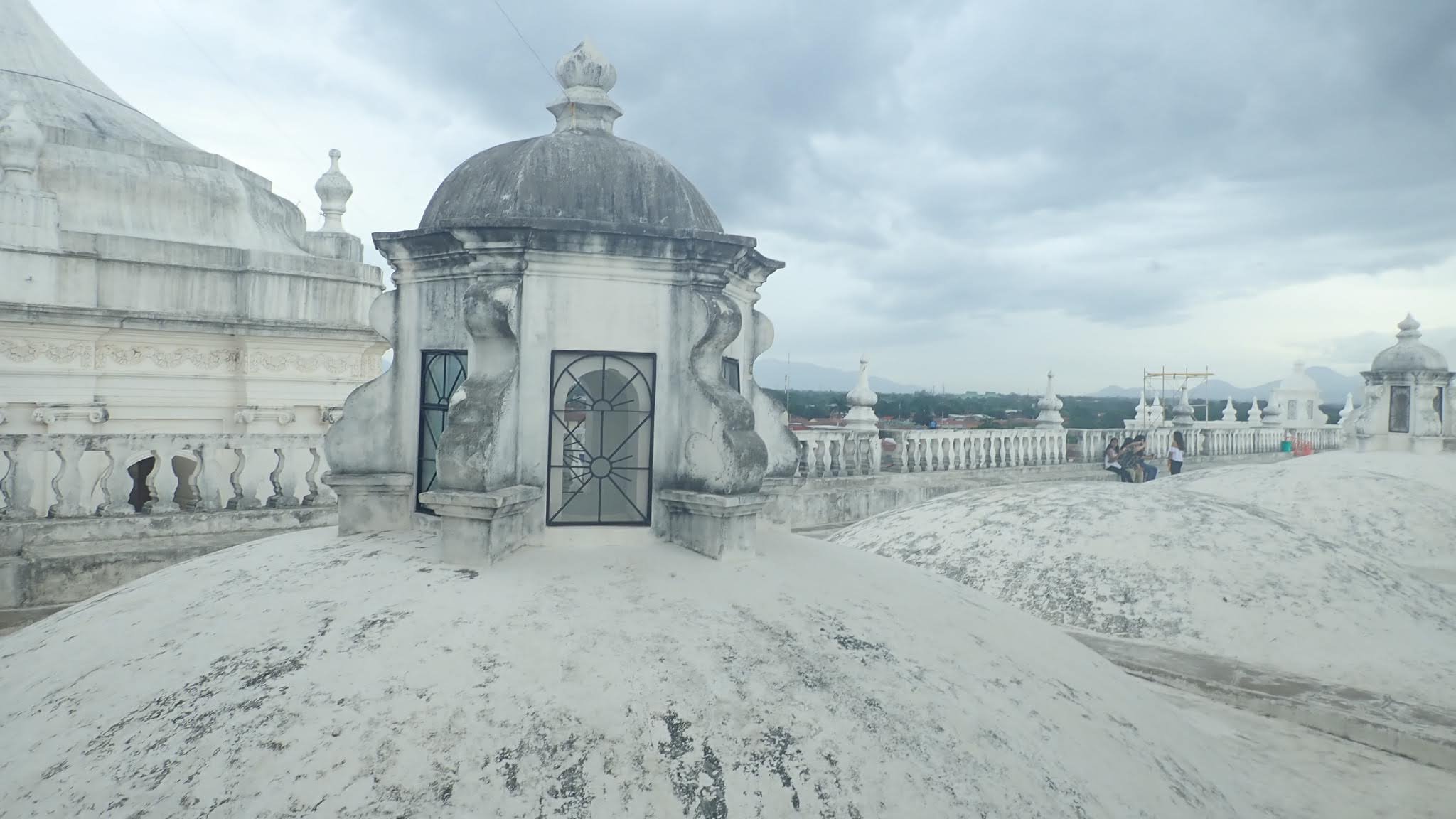 Dinner at Tacubaya Restaurant
Upon arrival, we were greeted by the owner of the restaurant Oscar who, like most people, wondered why the kids don't speak Spanish. Well, he wondered until I started speaking. He took his time speaking to every one of us. The atmosphere is warm and cheerful, with an open-air garden in the middle of the restaurant.
When we arrived, the kids were getting on the hangry side, so the owner recommended the quesadillas for the kids. Not only did he think they were going to be good, but it would be the fastest dish the kitchen could prepare. He was right! The kids devoured these in no time. They were so good, Marco and Daniela ordered seconds.
Charo and I ordered a pork dish that he recommended. Once again, it was flavourful and satisfying.
All in all, the service and ambiance of the restaurant were fantastic. My entire family recommends Tacubaya. The kids wanted to give a special shout out to the lemonade with mint, which they particularly enjoyed.
Street Food
On the second day, we headed out to the central square for lunch. We were going to stop off in a restaurant but wanted to try some street food, and we weren't disappointed.
All in all, our time in Leon was wonderful. It is a beautiful city where you can walk all day long. When you are in Nicaragua we all highly recommend visiting. My regrets are not staying one or two days longer.
Thanks for reading and happy adventuring!
Our Next stop: Las Penitas, Nicaragua
Our last stop: Juayua, El Salvador