The bus from Tulum arrived in Mahahual past 9 pm. We had spent as much time in Tulum as possible, taking advantage of our time spent with Charo's cousins Susan and Rafael and their families. When we arrived, the kids were tired and ready to fall asleep. Our Two nights in Mahahual backpacking had begun, but our adventures would have to wait for the next day.
Since the kids were tired, we decided to hail a taxi. The taxi was busy, but the passenger told Charo that the hotel was only half a block away. Bonus! We grabbed our packs and walked about 150 m to the hotel. Daniela and Marco did it without complaining, with Marco helping out with an extra knapsack we had as well! I'll give them credit, they were tired, and they pulled through. Mateo, complained the whole way, but at least he carried his pack.
Posada Pachamama
We arrived at the hotel Posada Pachamama, and I'm still thankful that the location was so close to the bus stop. The site was convenient for almost everything. There was a small store at the end of the street where we purchased water and some fresh fruit and avocado, and it was only a minute walk to the main beach. The hotel Posada Pachamama has approximately ten rooms on two different floors. The room itself was comfortable enough for a family of five. There were two double beds and a bunk bed. The top bunk bed was very high, so we all slept to the bottom beds.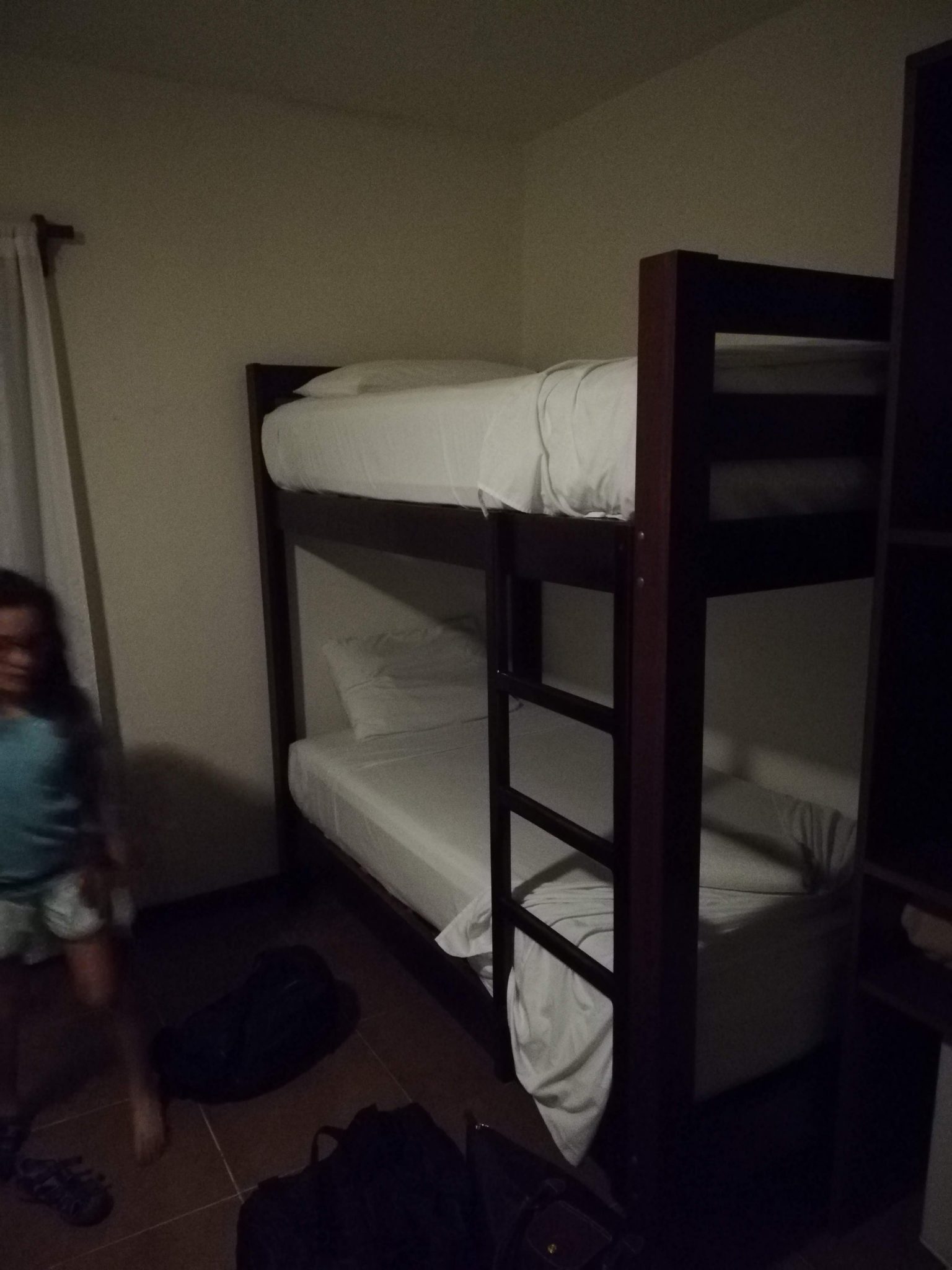 The wifi was good if you wanted to use Instagram or Facebook, but it was a little difficult for me to use my Chromebook to update the website.
Mahahual
When I arrived there, it felt like I'd been there before. Mahahual is a manufactured beach town as it did not exist 20 years ago. It was a stop designed for cruise ships to stop, so businesses started to show up. Foreigners own Most of the markets and properties, and they are run by "Locals." Why did I place locals in quotes, well there is no one local to Mahahual as there was no one living there. Even the Mexican people living there today grew up elsewhere in Mexico and only went there to find work. The beach strip is designed for the cruise ship business. All the beaches are infested with beach chairs, and umbrellas owned by the businesses. If you consume drinks or a meal, you are welcome to use the chairs. No one can tell you not to use the beach, as the beaches are public access. We found a beautiful little spot that had no chairs and planted ourselves there for a couple of hours to get some swimming in.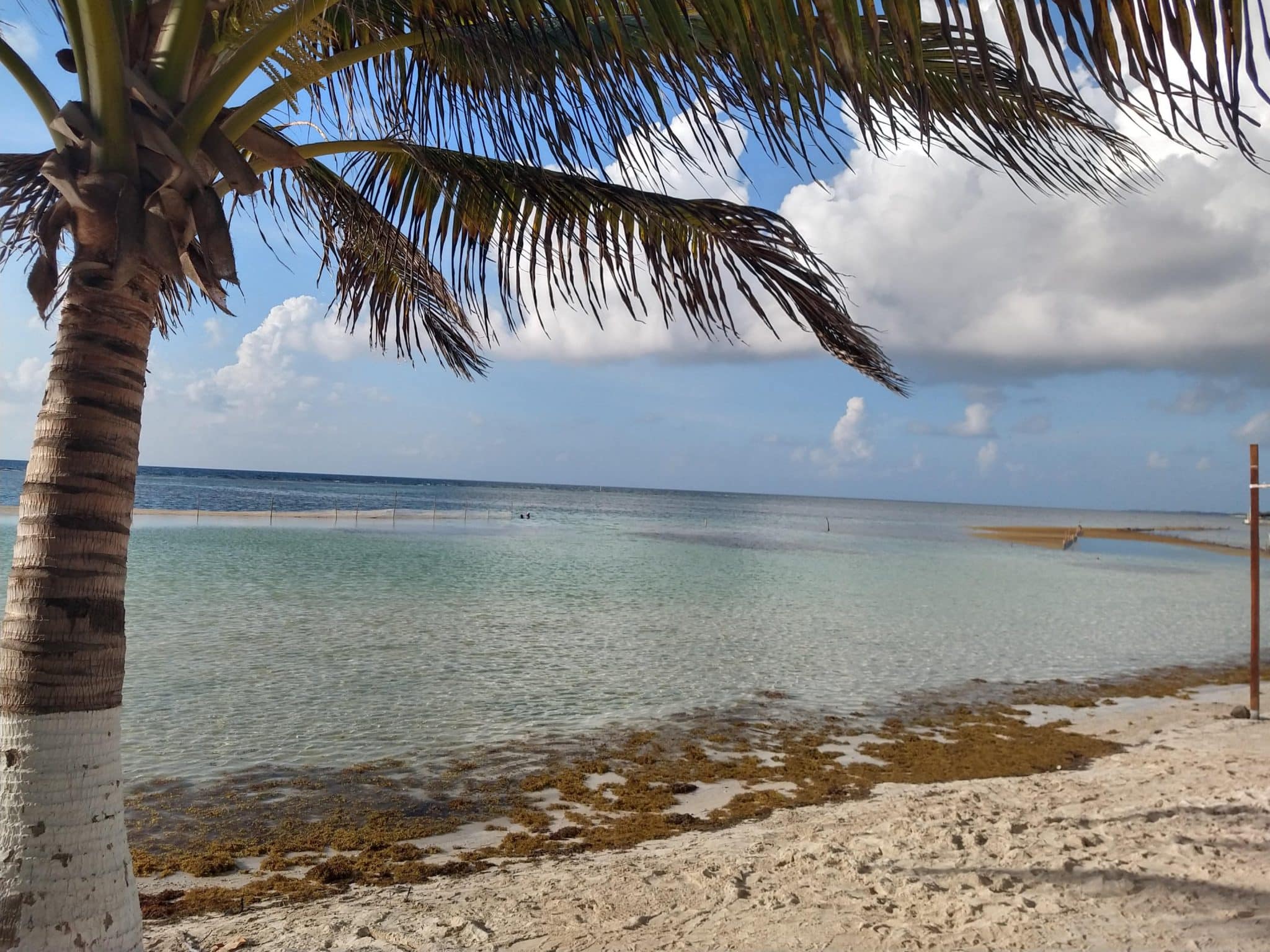 The water was shallow but very refreshing. Along the beach, there was a strip of vendors, each trying to sell and lowering their prices as you walk away. It was nice to see with kids, but they went into every stall asking to buy something. What I enjoyed were a few vendors who spoke English backed me up and told the kids, "Listen to your father," he said, "no."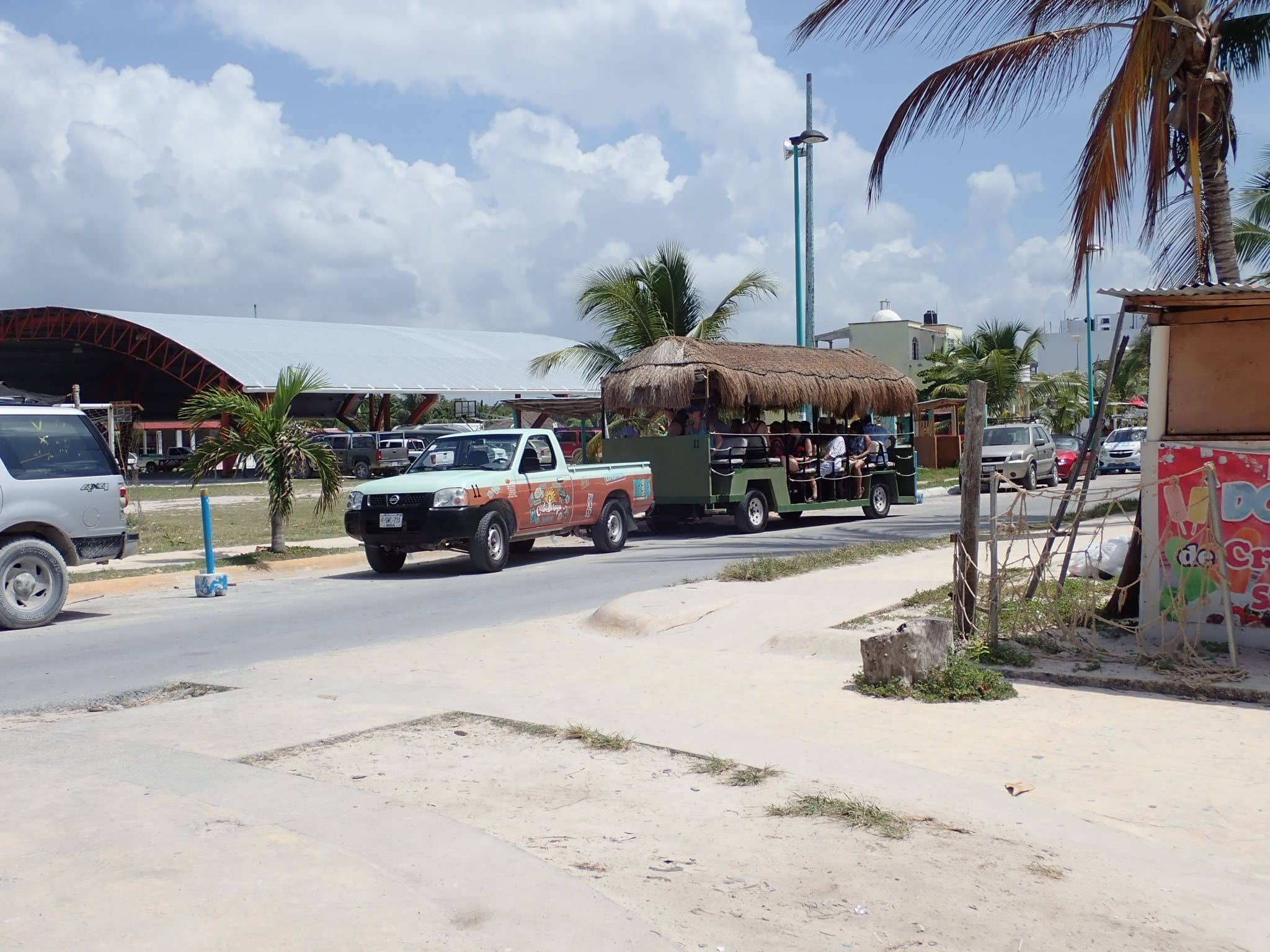 The Locals
Charo and I found the locals very helpful, friendly and willing to chat. Charo went out for a walk before we woke up and told me she spoke to some of the locals. When we went back as a family, each person she spoke to made sure to recognize her as she walked by with a "Seniora." One person was riding on his biking and slowed down to ask her how her day went. While walking down the strip, Mateo asked a question out loud, "Why are the dogs so friendly?" At this point, one of the local workers stopped us and answered Mateo's question. There are no aggressive dogs in Mahahual, and if there are the locals, call the police to have it removed. It makes sense as this is a town built for tourism.
Marquesitas
I'm pretty sure that's how you spell delicious in Spanish. We saw the stand as we arrived in town and decided to try it after dinner the next evening. We found this little treat, and it is a definite must-have while you're in Mahahual. There is a small stand that said Churros and Marquesitas. We went for the Churros, but they didn't have any. We were a little down but decided to take the plunge and try the Marquesitas. It looks like a crepe but a little crispier. It is filled with all sorts of different things, and then it is folded lengthwise twice. The kids chose Nutella, Charo, and I recommend the Nutella with cheese.
Once again, Charo spoke to the owner and asked her why she opened for business after the cruise ships had left for the day. She answered that she is self-conscious about her low level of English, and she had a couple of bad experiences with tourists because of it. Now, her business runs from about 6:30 pm onwards. She continued to explain that indirectly, the tourist industry benefits her. If the town is doing well, so does she. It's nice to see how they support each other.
My Thoughts
I know we haven't been to many places yet on this trip, but I can tell you I could have skipped Mahahual. There is no real history to the town, and once you leave the main strip, there was not much to see either. We spent a day here, and we were all ready to move on, even the kids. The beaches were just enjoyable, if not more. For my Southern Ontario friends, you can get the same experience going to Wasaga Beach.
Thanks for Reading and Happy adventuring!
Our Next stop: Bacalar, Mexico
Our Last stop: Mahahual, Mexico