We arrived at Bacalar, tired and hungry. After speaking with a taxi driver, and staff at the hotel we were staying, we asked each of them where to eat in Bacalar. They all agreed if we wanted breakfast, there was only one place to go. El Manati.
The restaurant
When we arrived at El Manati, we had two hungry kids and one hangry one with us. We had walked from our hotel, which was a pleasant 20-minute walk until reaching the town park where Mateo kept yelling, "I'm hungry!" Luckily, El Manati was just a short walk from there. Upon entering, there was a shop with a lot of local arts, crafts, and even selling honey. We didn't have much time to see it as we had one hangry Mateo. So we quickly sat down and received a menu from our waitress Mikaela. Charo asked her about Bacalar, and she gave us excellent tips like where to take the kids swimming. When she learned that we are travelling the world, she quickly gave Charo more tips about different places, especially Peru. Mikaela made us feel like we were at home.
I'll have to admit, travelling on a budget for a family of five, the prices did scare me a bit. We just arrived from Tulum and Mahahual, where we were paying about 20 pesos a dish at La Chiapaneca. At El Manati, you will have most dishes ranging between 75 pesos and 130 pesos, except for the fish burrito at 165 pesos. At 130 pesos, you're looking at just over USD 7. I wanted to glance around to see what we would be getting, but everyone around us was in the ordering process as well. So we took the plunge and ordered. Best decision we made! Daniela was the first to receive her breakfast. She ordered the fruit bowl.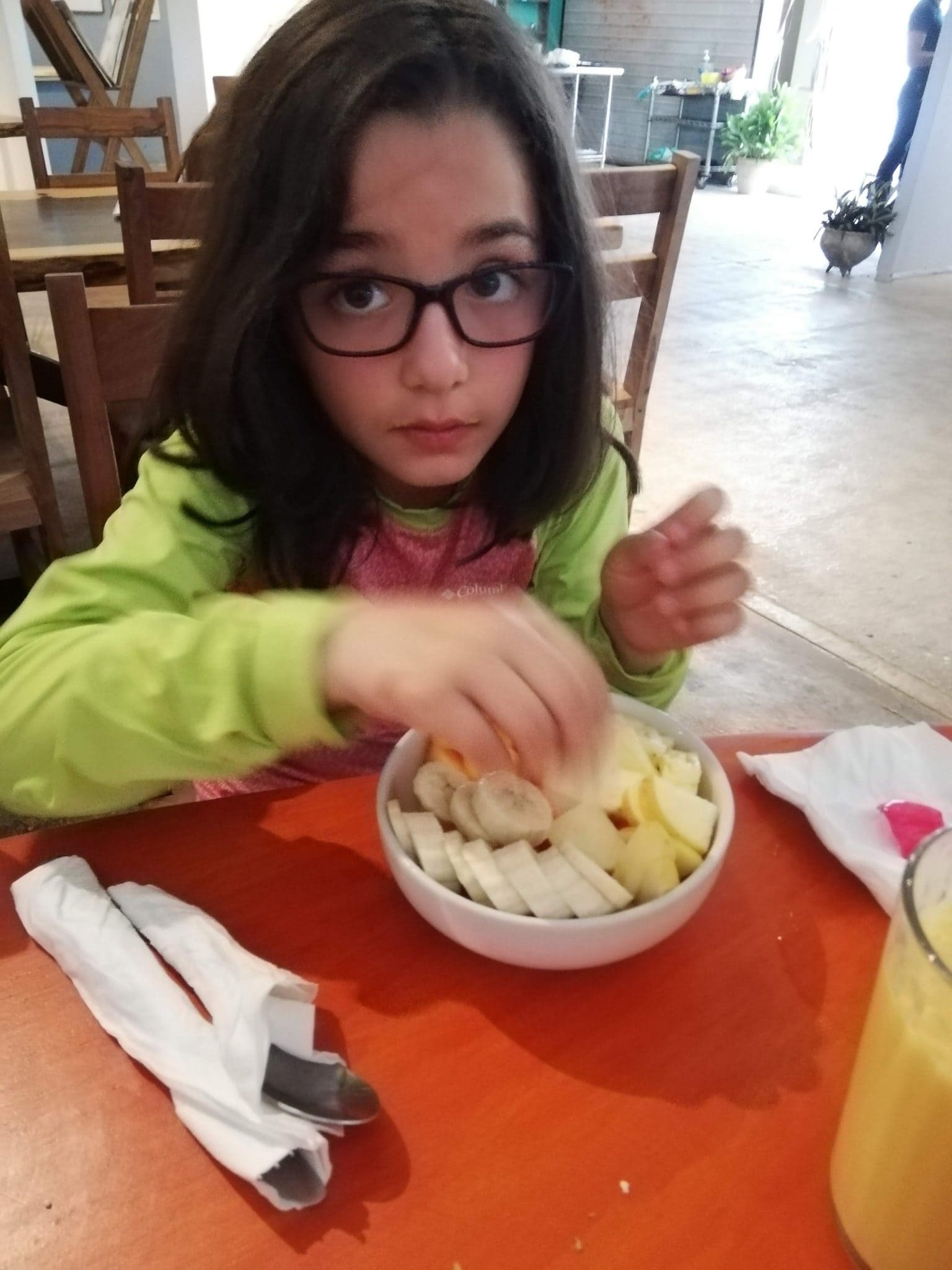 We were all shocked by the portion she received, filled with banana, mango, apples and papaya. You can taste how fresh it was and all locally grown. Next, Marco received his BLT.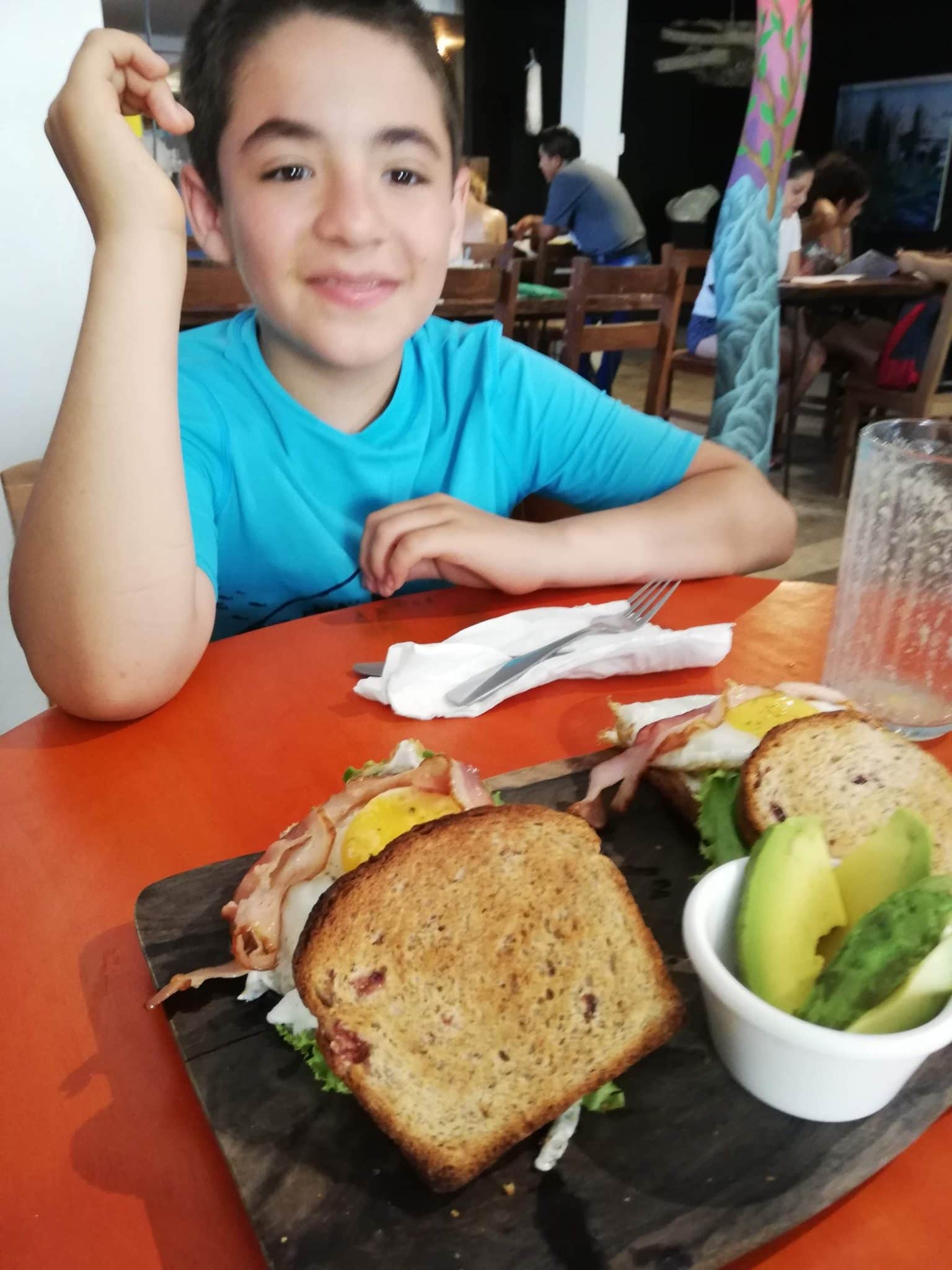 It looks like we photoshopped it in, but yes, there are two sandwiches there both with egg, bacon, guacamole, lettuce and tomato. Marco was giddy! He finished the first one in no time and said he'd save the other one for later. That would be a beautiful plan if Marco followed through with it. It was so good he devoured the other one shortly after. Charo and I had the Manati Chilaquiles, which had fried tortilla, onion, garlic, pumpkin, avocado, and sauteed chaya. The only difference with the two was Charo ordered a fried egg along with it.
It was also the first coffee we had since arriving in Mexico, and it was heavenly. No, we didn't forget about Mateo and his breakfast. Our little hangry man ordered…
cacao and honey hotcakes. These not only looked good, but they tasted good as well. Mateo was particularly thrilled about the generous amount of banana along both sides of the hotcakes. I tried to hold him back to take a better picture of him and his food, but he couldn't contain himself. In all the food was spectacular, we all thoroughly enjoyed every little bit of it. We were so full after we never had lunch. Even our little foodie Mateo exclaimed, "This place was definitely worth the walk this morning." I also have to say sorry to everywhere we see in the future, El Manati has set the bar really high.
El Manati's dining area
The vibe of the whole restaurant is calm and relaxed. Everywhere you looked, there is an artwork.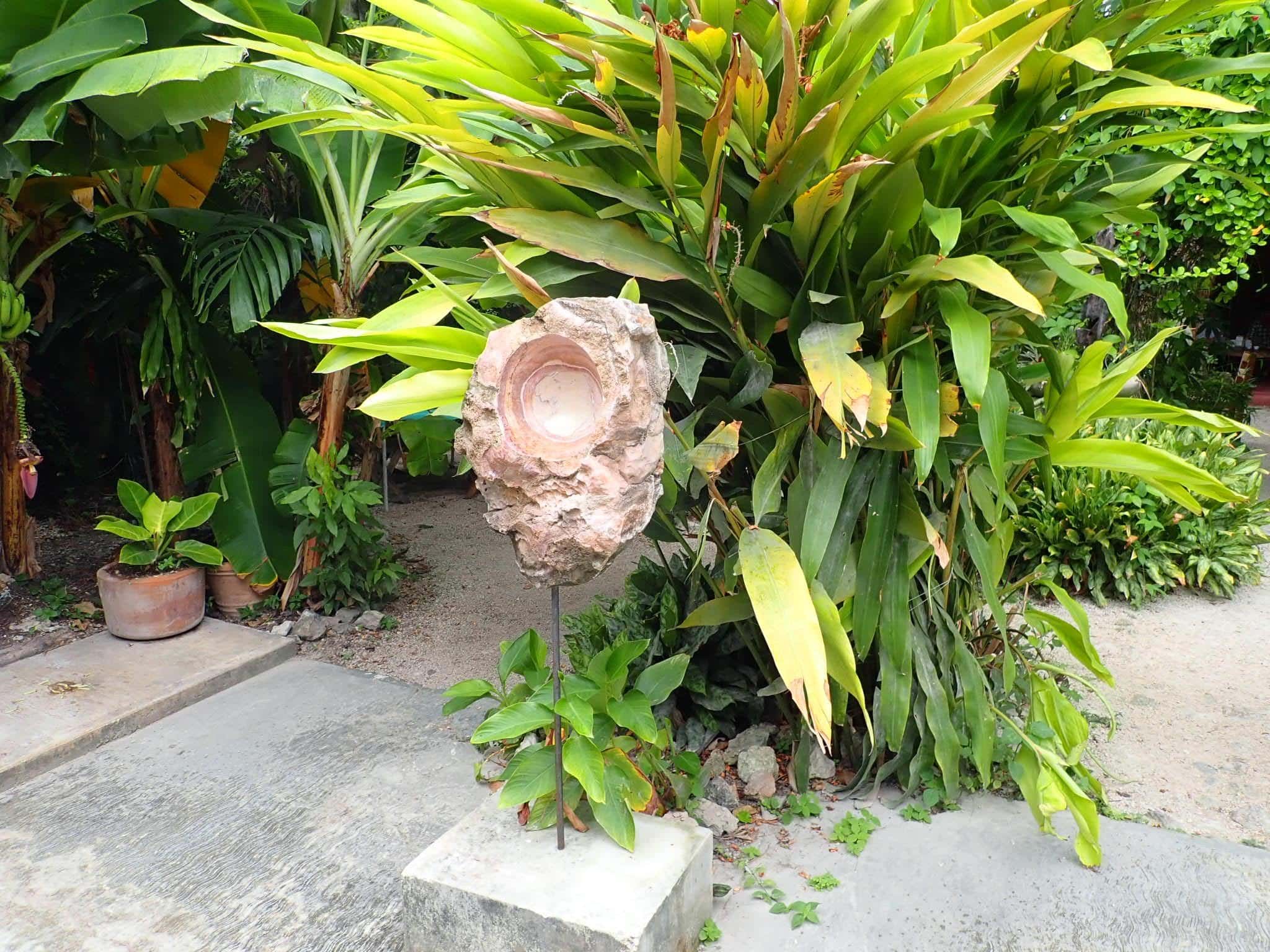 Even the tables are pieces of art. Charo and I love this as we have a live edge table at home as well.
In the courtyard, there is plenty of places to sit (I didn't get a chance to take pictures there, I thought it would be rude to take photos of random people sitting enjoying their breakfasts).
The kids even discovered a cat hanging out in the courtyard. They named her Lemon since they found her under a lemon tree.
All in all, El Manati was amazing. If you are travelling and looking for breakfast in Bacalar, go for the cool vibe and good food. If you're going with kids, it is a definite must stop! When asked asked his rating from 1 to 10, Mateo gave El Manati a 50.
Thanks for reading and happy adventuring!
Read about our other adventures in Bacalar, Mexico.